As promised, the following information is an update to
Recent 'Leaked' Bigfoot DNA Information
which pertained to statements made by Robert Lindsay in reference to what his sources told him as results of the nuclear DNA testing for Justin Smeja's 'Bigfoot Steak'.
My source, who provided physical evidence for the Ketchum DNA study, has confirmed these results...though these are the results from approximately a year ago and have since been determined to be 'flawed'. The supplier of this information to Robert Lindsay is most likely the party who worked with Melba Ketchum at the early stage of the study and has since moved on (presumed to be starting their own study). The actual nuclear DNA results have not been released or 'leaked'.
Recently Melba Ketchum stated that Adrian Erickson is now back on board with the study. This is true...Erickson is now bound by the same NDA as everyone else who is involved in the study. It was determined that the photographic and video evidence that Adrian Erickson has in his possession will be vital for the final presentation of the DNA study. Thus, any future disclosures attributed to Erickson should be deemed as spurious since he is now under the same restrictions as the other participants of the study in accordance with the NDA.
Recent claims by certain parties, who have stated that the physical evidence submitted by Justin Smeja were coyote remains, are not fact. If coyote or canid evidence had been submitted to the study the first test markers would have determined that this was not hominid and it would have been quickly dismissed. Under the current circumstances and through source information it is my opinion that Justin Smeja's account of the 'Sierra Kills' incident, for the most part, has been accurate. Those parties attempting to discredit Smeja and the overall study in order to bolster their own personal agendas need to back off and allow the science to speak.
I have not disclosed the names of the some of the referenced parties. If you read the narratives I had linked to earlier, you should be able to determine these individual's identities. As I have stated previously and on numerous occasions, give the study the benefit of the doubt. There is progress...I have been assured of this. I have not heard or seen any indications to think otherwise. Lon
Spirit Rescue International™
Providing no-cost professional spiritual help, personal support and guidance
Take the first step towards genuine peace of mind
The Spirit Rescue International™ Haunted Help Forum
*Join Our Group On Facebook*
Join Eric Altman and Lon Strickler each Sunday at 8 PM ET as we go
Beyond the Edge!
Astral Perceptions - Discussing ultraterrestrial and multidimensional phenomena and the proficiency of remote viewing
Join the
The Social - Paranormal Network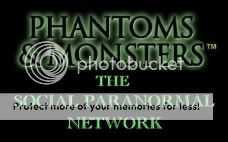 A NETWORK OF INVESTIGATORS, ENTHUSIASTS AND THOSE SEEKING THE TRUTH
THROUGH PARANORMAL EDUCATION AND DISCUSSION
ANOMALIST BOOKS
Works on maverick science, unexplained mysteries, unorthodox theories, strange talents, and unexpected discoveries. Please check out their excellent and diverse catalog
Become a fan of 'Phantoms and Monsters' at Facebook
"The latest news from beyond the mainstream"
Join Ben & Aaron for their weekly podcasts!
Check out Mysterious Universe Plus+ all access format!
Have you been looking for a great gift?
Instant 15% off your purchase - Use coupon code PH2011
Free shipping - Bonded dealer - PCI certified

Labels: bigfoot, cryptozoology, DNA, Dr. Melba Ketchum, genetics
Have you had a close encounter or witnessed something unusual?
Send us an email
Receive notice of each 'Phantoms and Monsters' post in real time!
Go to Phantoms and Monsters - NetworkBlogs and sign up
It's free!
Click here for this week's entertaining podcast
Add 'Beyond The Edge' Radio to your playlist!