New Flying Humanoid Claims - Mexico City - 11/2/2011
Posted at the
MUFON CMS
- no commentary - screen captures from video
The Cryptoterrestrials: A Meditation on Indigenous Humanoids and the Aliens Among Us
Androids, Humanoids, and Other Folklore Monsters: Science and Soul in Science Fiction Films
**********
300-year-old wooden head stolen in Newchurch is 'cursed'
A thief who made off with a wooden head from a Kent church has been warned his loot is cursed.
The unknown crook took the 300-year-old carved man's head from St Peter and St Paul's Church, Newchurch.
But the churchwarden now says that another thief who stole the same item more than 40 years ago, returned it with a note saying it had brought him bad luck.
Tony Day said: "I'd like to say to the person who has taken the head now, should you find your luck disappearing we'd happily accept it back to its rightful home."
The caricature, with a plum in its mouth, had been pinched from a table while on public display on October 15, at the end of the church's art exhibition.
In 1970, the head and the 18 inches of beam it was embedded in were cut off by a thief while the church was being re-roofed.
Fifteen years later it was returned, placed on the doorstep of one of the then churchwardens.
A note was pinned on it saying: "My sincere apologies. I stole this head and have had nothing but bad luck ever since. I hope that as I have now returned it, my luck will return."
That crook was never identified, nor was it ever discovered what bad luck the jinxed carving gave him.
The head had originally been made by carpentry apprentices in the early 18th century during renovation work as a depiction of their boss.
Mr Day said: "There was a tradition at the time for the apprentices to carve an image of the master and leave it in the church as a signature."
The 13th century St Peter and St Paul, with its distinctive leaning tower and long low roofs, has brought little good fortune for criminals.
In the early 1700s a smuggler fell into an open grave in the churchyard when he was being chased and shot at by customs men.
Mr Day said: "When he fell inside he disappeared from the customs men's sight so they couldn't find him.
"But he was left lying there for three days until the locals heard him groaning and pulled him out. It is not known if he was arrested afterwards."
During this period Romney Marsh was rife with smuggling and contraband including brandy was hidden in the bells of St Peter and St Paul. -
kentonline
**********
Interesting Kansas City Area UFO Report - MUFON CMS
Lees Summit, MO - unedited:
I am writing you about the ufo witnessed by John Goslin on 10/31/2011. I saw this with my family on that night. We live in lees summit and we left home at nearly 7:35pm on our way to trick or treat at lees summit north high school. I pulled up to Legacy wood and Blackwell intersection and was object to south in sky. I turned right onto blackwell and it followed me as i went north. I turned west onto Scruggs and saw it clearly until it passed over us near todd george and scruggs. It was large. white lights all over outside diameter of what may be considered a blimp shape. we pondered what it was. had my van windows rolled down and did not hear plane engines. do not believe this was the planes flying to arrowhead. I saw it dip as though it were a blimp as if it pointed nose down but it just didn't look like a blimp. It was too big and moving to fast at that time. It would have been a blimp going sideways to move as it was.
after it passed over us and it headed toward the stadium, we concluded it must be the blimp for the chiefs football game. As we drove up to the Lees summit north high school we saw what we think were the planes not sure if they were going to the stadium or preparing to go. This was when we pulled into the parking lot at lees summit north high school at 7:45pm. At that time we were pretty freaked out and not sure what to tell our children it was.
We think we saw two different things in the sky. One being the planes and the other was Unidentified. Is there a craft on radar for this position and time that i have seen. My wife and children know what we saw was something that was not supposed to be here. Not officially. I think the public safety was at risk by what was flying that night. If it was something not licensed or permitted it should be found and those responsible should be charged with suitable crimes.
Please contact me and let me tell you more.
Michael Castle
A.D. After Disclosure: The People's Guide to Life After Contact
The Black World of UFOs: Exempt from Disclosure
**********
UFO Disclosure Countdown Clock
Check out Rick Phillip's latest posts at
Interview With Orb Caller OrionIFO - AKA Phil Coseski

and
YouTube user `Orionifo' - Orb Videoer And Caller - How Long Can The MSM Ignore Orb Callers?
*********
Pink Light - Point Pleasant, West Virginia
Reader submission:
I read with interest a submission in your 11-5-11 daily newsletter. The writer had described a pulsating pink light at night while driving in Middle Smithfield, Pennsylvania. That color is unusual. Most people report bright white lights, in addition to red, blue, green, yellow, etc., but rarely do you hear about pink. It reminded me of something pink I observed in the sky one afternoon with three other witnesses.
Back in the mid-1980's, we were outside while at my friend's house in Point Pleasant, West Virginia. Her home was situated overlooking the Kanawha River (which forks directly into the Ohio River). We were saying good-bye when I happened to look into the sunny sky, which was bright and clear with no clouds in sight. I saw something weird, and I pointed at it.
Our laughter stopped abruptly and we all stared at something quickly coming our direction, moving across the river. It was moving from the left to the right from our perspective in a downward direction and was completely silent. Whatever it was glowed softly with a pale pink color, without blinking, and had the general shape of a cigar. As if that wasn't peculiar enough, it had fire coming out the back section! Then it did something really extraordinary. I want to emphasize that it didn't slow down or curve in its trajectory, but it suddenly made a complete right angle turn (like an "L" shape) and started to ascend, without changing speed. We continued to watch it until it got so small that we just couldn't make it out anymore. The entire episode didn't last any longer than two minutes, but it was an amazing two minutes that I have never forgotten.
West Virginia UFO's: Close Encounters in the Mountain State
Haunted West Virginia: Ghosts and Strange Phenomena of the Mountain State (Haunted Series)
**********
Sorry...only 1 post today
I've been fighting an infection the past week or so...it has recently affected by vision so I decided to cut it short. As well, SRI has an on-site session at the Neath location later today. We're trying to nail this haunting down so it can be resolved. Thanks for reading! Lon
**********
Spirit Rescue International™
Providing no-cost professional spiritual help, personal support and guidance
Take the first step towards genuine peace of mind
The Spirit Rescue International™ Haunted Help Forum
*Join Our Group On Facebook*
Join Eric Altman and Lon Strickler each Sunday at 8 PM ET as we go
Beyond the Edge!
Astral Perceptions - Discussing ultraterrestrial and multidimensional phenomena and the proficiency of remote viewing
Join the
The Social - Paranormal Network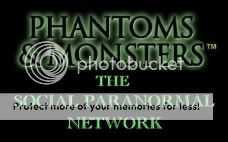 A NETWORK OF INVESTIGATORS, ENTHUSIASTS AND THOSE SEEKING THE TRUTH
THROUGH PARANORMAL EDUCATION AND DISCUSSION
ANOMALIST BOOKS
Works on maverick science, unexplained mysteries, unorthodox theories, strange talents, and unexpected discoveries. Please check out their excellent and diverse catalog
Become a fan of 'Phantoms and Monsters' at Facebook
"The latest news from beyond the mainstream"
Join Ben & Aaron for their weekly podcasts!
Check out Mysterious Universe Plus+ all access format!
Have you been looking for a great gift?
Instant 15% off your purchase - Use coupon code PH2011
Free shipping - Bonded dealer - PCI certified

Labels: alternative news, bizarre, breaking news, fortean, oddball, paranormal, UFO
Have you had a close encounter or witnessed something unusual?
Send us an email
Receive notice of each 'Phantoms and Monsters' post in real time!
Go to Phantoms and Monsters - NetworkBlogs and sign up
It's free!
Click here for this week's entertaining podcast
Add 'Beyond The Edge' Radio to your playlist!