Chile enlists psychic in search for plane crash victims
Chile on Monday turned to the powers of a psychic to find the bodies of 17 people still missing after a military plane crash near the remote Robinson Crusoe island in the Pacific Ocean.
"We're are working with a person who is on one of the (search) boats," Defense Minister Andres Allamand told national Chilean TV in response to a question of whether a medium was taking part in recovery efforts.
"Not only are we using all of our technological capabilities, but also all the human and superhuman abilities that may exist," he said.
Allamand, who has been on the island since Saturday, said earlier, however, sought to lower expectations that all the victims bodies will be recovered.
"We must prepare for the possibility that we will not find some of the bodies," said Allamand.
The Chilean government has organized a huge search in waters off the island where the plane went down late Friday carrying 21 people .
On Sunday, officials declared two days of national mourning, while only four bodies and a small amount of aircraft debris have been found so far.
The search continued on Sunday even though the government said there was no hope that anyone survived the crash.
The air force plane had made two abortive attempts to land at Robinson Crusoe before radio contact was lost.
The victims included one of the country's best-known television personalities.
Thousands gathered at state broadcaster TVN to remember daily morning talk show host Felipe Camiroaga, who was traveling to the island with a crew to report on reconstruction efforts after a massive earthquake and tsunami caused devastation last year.
Robinson Crusoe, believed to have been the setting for the famous novel by 18th century British author Daniel Defoe, is the main island of the Juan Fernandez archipelago, which lies in the Pacific some 700 kilometers (435 miles) west of the South American coastline.
The Chilean navy is using sonar equipment to try to locate the fuselage of the aircraft, where officials believe may hold the remaining crash victims. -
afp
**********
Is this Britain's most haunted hotel?
Built in the 12th century, Ettington Park, near Stratford-upon-Avon, Warwickshire, is one of the oldest buildings in the Midlands.
And things, it seems, regularly go bump in the night.
The hall was originally a family home to the Shirleys until Sewallis Shirley died in 1912. It then changed hands several times until 1935 when it became a nursing home.
During the Second World War it was turned into a Prisoner of War camp for Italian soldiers.
Its next incarnation was as a nightclub.
But it became derelict after being destroyed by fire in 1979, until it was rescued by a hotel chain in 1983 and restored to its former glory.
And it seems its chequered history has refused to allow the building to rest in peace.
Hotel guests have reported spooky goings-on, including:
l Footsteps have been heard clomping around empty rooms;
l Mysterious floating figures have stared out of windows;
l The sound of billiard balls clinking against one another in a deserted library;
l A floating candle was seen on an oak mantelpiece;
l An elderly Victorian lady has been seen in the Conservatory;
l Women's voices have been heard in an empty drawing room;
l Books have been known to fly from shelves in the library;
l On the main staircase, the ghost of Mary, a servant who died in a fall, has been seen.
The reports have got the neo-Gothic mansion featured in an online directory of the country's scariest overnight stays, www.hauntedhotelguide.com.
One guest, Stan Smit, has written on the website: "I stayed in the Old Tower Room, and I had to go downstairs to complain to the manager about the people in the room above me.
"I was awakened at 1.30am with them stomping around and banging doors.
"The manager stared at me for a moment, then said: 'But sir, there is no room above yours, only the attic'.
"I then discovered that 200 years ago a woman had been hanged in the attic, directly above my room."
A second guest said: "A friend of mine used to work here.
"In a particular room, the telephone used to ring the hotel reception switchboard, even though there was no-one staying in it.
"On another occasion the hotel had been gutted by fire. Workmen arrived on the first morning to commence the building's reconstruction and noticed a white figure looking out of one of the first-floor windows.
"It wasn't until they were well inside the premises that they noticed there was no room there. It had been destroyed by the fire."
The hotel is set in 40 acres of rolling countryside six miles away from medieval Stratford.
It was used as a location for the 1963 film chiller The Haunting, one of the creepiest ghost movies ever made.
The Warwickshire hotel is not the only Midland stately home to make it on to www.hauntedhotelguide.com. Also included is Coombe Abbey, in Coventry, Warwickshire.
It is renowned for its ghostly inhabitants, one of whom is Abott Geoffrey, who was brutally murdered in 1345.
The website also covers the 16th century manor house Madeley Court. Guests have reported seeing mysterious dark shapes hovering by the windows, ghostly Victorian maids in the corridors and phantom monks in the gardens. -
sundaymercury
**********
Claudia Schiffer moves family into ghost-free country house
Model Claudia Schiffer has moved back into her country home in Suffolk with her family after ridding it of ghosts.
The German star and her husband film director husband Matthew Vaughn have been living in London recently, because they had to call in an exorcist to banish a ghost from their £5million country mansion.
But the couple have now moved back into the property as they are satisfied that the spirits have gone.
Claudia and Matthew, who have three children, Caspar, eight, Clementine, six, and 16-month-old Cosima, are now allowing builders to work on their their London home.
A spokesperson for the 41-year-old told British newspaper the Daily Mail: 'Claudia and Matthew have moved to their country home while their London home is being renovated.'
Schiffer called in the exorcist after she was told there were two cursed pictures and the ghost of a mother called Penelope in the property. -
monstersandcritics
**********
Cardiff vicar lifts lid on spooky Wales
A vicar has lifted the lid on Wales' haunted hotspots – and claimed the nation is the UK's most haunted.
The Rev Lionel Fanthorpe, a judo black-belt, motorcycling, ex-headteacher has been tracking paranormal mysteries since his retirement.
And now the colourful Fortean Times presenter, from Cardiff, is set to address a cultural debate about his findings.
Most recently, clues have led him to Stratford-upon-Avon where he is trying to uncover fresh mysteries for a new TV show.
Fanthorpe moved to Wales in 1979 and has had a number of strange encounters.
He has spent time on the trail of a sea monster in Pembroke Dock, a monarch's mistress in Haverfordwest and a Nazi deputy back from the dead.
"I would say Wales has a disproportionate amount of incidents," he told Wales on Sunday.
"Welsh friends and Welsh mediums seem to have this highly-developed spiritual sense, a high intelligence and sensitivity – it's a perceptiveness and degree of awareness that you don't find in other parts of the UK.
"It may well be something inherent, something in the genes of Welsh people that carries this extra power and extra awareness with so many spiritual phenomena."
Reported phenomena have seen Fanthorpe investigate Roch Castle in Haverfordwest where Charles II's mistress Lucy Barlow has been seen floating through the rooms.
Elsewhere a number of "credible witnesses" have testified to seeing a Nessie-style monster swimming in Pembroke Dock after an initial sighting from the nearby Shipwright pub.
Meanwhile, Fanthorpe said Rudolf Hess wanders the Skirrid mountain near Abergavenny after his stay in the Maindiff Court Military Hospital after he was taken as a prisoner of war.
Fanthorpe, from Roath, also gets four or five calls a year asking him to exorcise spirits making a nuisance of themselves round the house.
He added: "There was a case in Splott in Cardiff where the house was divided into an upper and lower flat and there were two young tenants living there, each of them had a young family.
"They would go shopping together and when they came back they would see the outline in the upstairs flat of an old woman in Victorian cape and bonnet. As they went up to investigate, they would hear knocking noises from downstairs. -
walesonline
-----
"Light From Nothing" May Point to Evidence for Strange Phenomena
Origins of the Crybaby Bridge Legend
The Ghost Ship
The Ghosts Lost in Time at the Petit Trianon
Ghosts of Beachy Head
Rejected by Hell, again
Near-death experience meeting with "beings"
Back to School Ghouls
Psychics Beat Vegas
5 Most Haunted Places in India
The Houston Horror
Mystery Spots and Gravity Hills
Jaunting Through Haunted Georgia
Why I Believe Planet Elenin Is Really On Its Way
"I Hope the Reptilians are Biting their Nails"
Out of Body Experiences, Near Death Experiences vs. Death and Afterlife Experiences
The Legacy of 911: Toxic Dust
Another 911 Legacy: Government Spies
Ringing Phantom Phone
Factory Ghosts, Knocking Spirits and Poltergeists
The 9/11 Falling Man In The Tarot
Has the Witchcraft Act of 1957 outlived its usefulness?
The Town Where Time Stood Still
There's Something In Our House
Pay No Attention to the Clown Tunneling Beneath the Curtain
Spirit Rescue International™
Providing no-cost professional spiritual help, personal support and guidance
Take the first step towards genuine peace of mind
The Spirit Rescue International™ Haunted Help Forum
*Join Our Group On Facebook*
Join Eric Altman and Lon Strickler each Sunday at 8 PM ET as we go
Beyond the Edge!
Astral Perceptions - Discussing ultraterrestrial and multidimensional phenomena and the proficiency of remote viewing
Join the
The Social - Paranormal Network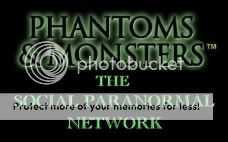 A NETWORK OF INVESTIGATORS, ENTHUSIASTS AND THOSE SEEKING THE TRUTH
THROUGH PARANORMAL EDUCATION AND DISCUSSION
ANOMALIST BOOKS
Works on maverick science, unexplained mysteries, unorthodox theories, strange talents, and unexpected discoveries. Please check out their excellent and diverse catalog
Become a fan of 'Phantoms and Monsters' at Facebook
"The latest news from beyond the mainstream"
Join Ben & Aaron for their weekly podcasts!
Check out Mysterious Universe Plus+ all access format!

Click here to check out Stan's most recent book!
CLICK THE BANNER TO USE YOUR
20% OFF COUPON CODE!

Amazing technology that allows us to print almost anything in light!
Labels: Esoterica, metaphysical, paranormal
Have you had a close encounter or witnessed something unusual?
Send us an email
Receive notice of each 'Phantoms and Monsters' post in real time!
Go to Phantoms and Monsters - NetworkBlogs and sign up
It's free!
Click here for this week's entertaining podcast
Add 'Beyond The Edge' Radio to your playlist!