MUFON CMS - 8/14/2011 - San Jose, California - unedited:
I arrived home from work around 11:45 p.m. on Saturday, August 13, 2011. As I walked toward my house from my detached garage, I looked up and noticed a meteor streaking brightly across the northwest part of the horizon. I decided to grab my digital camera and tripod and went back outside to take some timed exposures to see if I could capture a meteor or two. My exposures ranged 6 and 8 seconds and the camera was aimed toward the northwest, angled about 45 degrees above the horizon. I made several exposures and then rotated the camera more directly upward closer to 90 degrees above the horizon. The photos were taken from about 12:20 a.m. until around 12:45 a.m. Sunday, August 14, 2011, from my driveway in the east San Jose foothills. The camera was mounted to a small tripod to avoid shaking. While I observed many meteors with my eyes, I did not see anything unusual in the sky. That is until I reviewed the photos later Sunday morning about 9 a.m. I was astonished to see the object shown in the photos I have submitted. I didn't hear any aircraft or other noises, nor did I observe any unusual lights or objects in the sky while I was photographing meteors. I am convinced that this a craft of non-terrestrial origin, and that it was hovering in different positions in the sky near my home. I have no idea what it is. I will be attempting to capture further images of this object, hopefully a little clearer.
NOTE: if these images have not been manipulated then this may be an important sighting. There have been several 'cigar-shaped' UFO sightings in the LA / Orange Co. areas lately as well..Lon
Spirit Rescue International™
Providing no-cost professional spiritual help, personal support and guidance
Take the first step towards genuine peace of mind
The Spirit Rescue International™ Haunted Help Forum
*Join Our Group On Facebook*
Join Eric Altman and Lon Strickler each Sunday at 10 PM ET as we go
Beyond the Edge!
ANOMALIST BOOKS
Works on maverick science, unexplained mysteries, unorthodox theories, strange talents, and unexpected discoveries. Please check out their excellent and diverse catalog
Become a fan of 'Phantoms and Monsters' at Facebook
"The latest news from beyond the mainstream"
Join Ben & Aaron for their weekly podcasts!
Check out Mysterious Universe Plus+ all access format!
Astral Perceptions - Discussing ultraterrestrial and multidimensional phenomena and the proficiency of remote viewing

Click here to check out Stan's most recent book!
Join the
The Social - Paranormal Network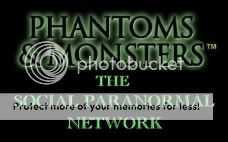 A NETWORK OF INVESTIGATORS, ENTHUSIASTS AND THOSE SEEKING THE TRUTH
THROUGH PARANORMAL EDUCATION AND DISCUSSION
Need an unique special occasion or business gift?
(410) 241-5974

Amazing technology that allows us to print almost anything in light!
Labels: California, MUFON CMS, OVNI, UFO
Have you had a close encounter or witnessed something unusual?
Send us an email
Receive notice of each 'Phantoms and Monsters' post in real time!
Go to Phantoms and Monsters - NetworkBlogs and sign up
It's free!
Click here for this week's entertaining podcast
Add 'Beyond The Edge' Radio to your playlist!