Thriller Cast Creeped Out While Filming At Haunted Hospital
The cast and crew of new thriller Insight were left spooked during night shoots while filming at an abandoned hospital, which has been listed as one of the most haunted sites in Los Angeles.
Linda Vista Community Hospital in Boyle Heights, where the pilot for E.R. was shot, has been shuttered for 20 years - following a string of lawsuits connected to the place's unexpectedly high death rates.
It has been the site of several televised paranormal investigations and was placed on the National Register of Historic Places in 2006.
And In/Sight director Richard Gabai admits it was a very spooky setting for him and his cast, including Back to the Future star Christopher Lloyd and Sean Patrick Flanery.
The moviemaker says, "It was extremely creepy and scary, which really helped the feel of the movie - because it's a supernatural thriller. It was challenging at times.
"I can't say anyone saw any ghosts but you could feel death in that place. There was actually one time I lost my producer for two hours - he wandered off and got lost. We worried that something had happened to him.
"He was terrified because the electricity would go on and off and the lights would flicker."
But Gabai admits he had more than ghosts and ghouls to worry about while making the film - he was on such a tight budget he agreed to share the location with another production.
He tells WENN, "There was another film shooting simultaneously so we had to observe tight schedules, as did the other director, so our projects didn't interfere. Can you imagine shooting a tense scene and hearing 'Action' from another part of the hospital?"
But Gabai brought the film in under budget in just 15 days, despite the obstacles. -
contactmusic
**********
Tenants have heard a man moaning in the bedroom (left) while the kitchen (top right) has often become exceedingly cold, or the bathroom (bottom right) flush has gone off mysteriously. One tenant has also been locked in the shower for two hours.
Haunted house of Jumeirah scares its occupants
"There's something that lives in our house, and it isn't human," says Karl, a resident of an old villa in Jumeirah, Dubai. Located deep in the heart of Jumeirah 1, this seven-bedroom hotspot of paranormal activity is home to a group of Filipinos who claim to have experienced visitations for over a year now.
Most unusual, perhaps, is Lora's encounters with a male "spirit".
Lora's spooky story began in November last year when she was awakened at 3am. "I felt an intense pressure all over my body, as though there was a person sleeping on top of me. I tried to sit up, but couldn't move anything besides my fingers and toes. On the curtains I could see a dark shadow atop me," she says.
"A few nights later, I could hear a man moaning from my roommate Mary's bed. At first I thought her husband was back from the Philippines, but a quick peak revealed Mary was fast asleep with that mysterious shadow on top of her reflecting on the wall."
Understandably, both Lora and Mary, having discussed the events of the night, were afraid to sleep alone in their beds, instead choosing to huddle together on the floor. On one of those nights, Mary had another visitation. "I was fast asleep when I felt something at my foot. I looked down to see my sock peeling itself off. I woke up the other girls and we all saw it happen: Not just once or twice, but eight times over the course of the night."
Her husband Karl has an equally eerie story to tell. "Three months ago I was home alone and my bed started shaking incessantly. I looked around thinking I was in the middle of an earthquake, except that nothing else was moving apart from my bed. Sometimes, I hear voices trying to whisper in my ear."
His flatmate Phillip, a 30-year-old secretary, says he has visitations from the "ghost at least once a week. Normally, it just draws open my curtains every time I close them, but one time I was in the shower and it locked me in for two hours. My flatmates had to eventually break the lock to get me out."
Louise, a Filipino teacher who lives in one of the ground floor bedrooms, says she's afraid to enter her own kitchen alone because she feels "a strong presence in the kitchen and the adjoining toilet. Often, the kitchen becomes exceedingly cold, or the bathroom door slams open and shuts, the flush goes off mysteriously… It's not a part of the house I like coming to."
Nora, the eldest occupant of the house, says she was once a medium and as such is trying to make contact with whatever it is that is in their house. So far, she hasn't had any luck. Her flatmate Karl says that while the days are usually quiet, most of the paranormal activity happens at night. "These aren't dangerous ghosts, but they like to play around," says Karl. "For example, no matter how often we change the light bulbs in our room, they don't last beyond two weeks. Whoever it is that's living in our room obviously likes the dark." -
gulfnews
**********
Spirits and spooks and things that go bump in the cellar
A typical Saturday night in Hinckley might involve the odd ghoulish scene - but for around 30 people hidden away in the pitch-black cellar of Hinckley Museum, Midlands, the presence of the paranormal was far more palpable.
Latches mysteriously lifted on doors, candle flames flickered with no breeze and electricity sparked in the air as the Absolutely Haunted team got to grips with one of Hinckley's oldest - and spookiest - buildings.
It is the first time any paranormal investigation company has been allowed access to the row of 17th century thatched cottages, on Lower Bond Street, and the team were determined to put the place through its paces with glass work, table tipping (both similar to communicating through a Ouija board) and lone vigils planned to draw the spirits out.
So what had I let myself in for?
"First things first, there are no such thing as ghosts," explained Chris Seal, founder of the Leicestershire company.
"But there are spirits and we can feel and tune into their energy.
"Tonight is all about having fun, this is the first time any team has investigated this building so it could take a while to work it but I've got a really good feeling about this place."
And he wasn't disappointed.
While we were all getting to know each other and sharing paranormal experiences, of which I sadly have none, Chris was already receiving messages from the other side.
"A man's just told me to lick his [Gredg Drodz, a local historian] head and cut his toenails - I think he's a bit mischievous," laughed Chris.
But as the first group carefully made their way down into the cramped cellar there was no hint of merriment left.
Clasping hands in the dark, we began to create a circle of energy to help the spirits communicate as Chris started digging - a mental tool which would unravel the layers of history - and memories - in the building.
People began to be prodded poked, pushed in the stomach - not me I have to say but I did get a very strange smell, along with a few others - as the team carried on calling for any spirits to come forward.
Chris then picked up information that there was another identical cellar beneath the one we were standing in - with no less than a Tin Hat inside, spookily before he even knew people from the town were known as Tin Hatters.
But it was later on in the evening that things really started picking up.
I witnessed loud creaks coming from an empty room, two k2 metres, which measure changes in electromagnetic fields, going mad at either end of the cellar as people picked up the spirits of children and Chris also said he had seen electricity sparking in the air - a first for him even with more than 20 years experience of communicating with the spirit world.
Whatever it may be defined as, there is definitely something strange going on in the museum; although nothing nasty at all.
In fact, despite the clock hitting 3.30am and signalling the end of the night, everyone was still in high spirits.
The only question is whether or not we all got to sleep later on?
I know I jumped every time I heard a creak!
* The historians at the museum are going to research all the information gathered on the night to see if it fits with historical events. -
news-in-hinckley
**********
Ghostly encounters in Wisconsin restaurant
Sarah Schuerman said it would happen when she was alone in the kitchen.
"When you are all alone you get tapped on the shoulder, but no on is there," she told me recently at Chances restaurant and bar in Rochester, Wis.
"One time I was working the meat slicer and almost cut my finger," she continued, when the tap on her shoulder came as if in warning, she said.
Chances, built in 1843 is haunted, so say its past and present owners and family members.
Located about 45 minutes away in Racine County, it is tucked into a quaint community with a few small shops like Finder's Keepers in the small downtown area.
I first read about the place earlier in the week in a book called "Haunted Wisconsin" Third Edition by Michael Norman.
And so, curious, I asked work colleague/cousin Jody if she'd like to venture over to Chances for lunch.
Always game for an interesting day trip, Jody agreed and we set out on our quest for some tales of the supernatural.
We enjoyed a tasty lunch and then proceeded into the bar area where several patrons were seated.
That's when things got interesting.
The restaurant has been owned by the Schuerman family for about 25 years, said Sarah, who was about two years old when her parents bought it. She grew up in and around the place and worked in the kitchen during her high school years. She still helps out on the weekends, she said.
On this day, she was enjoying lunch at the bar and was among several people who had stories to tell of spiritual encounters or happenings at the historic site, built before the Civil War. There reportedly also is an underground railroad entrance for run-away slaves in the basement, but that has been closed off we were told.
Still, the spirit who haunts the kitchen is said to be a black woman, perhaps a runaway slave who also inhabited the basement area and came upstairs to cook, we were told.
According to the book and according to the people we talked to, there are seven ghosts in the place.
Jody and I did not see or feel anything unusual on our visit, but when we went upstairs to the supply room, where unexplained sounds or actions also have occurred, Jody's cell phone did ping twice. No one was trying to text or call her and the battery was not low, nor was it in an out-of-area range.
Perhaps the steel reinforcement in the floor caused the pings, but then who knows for sure?
But back to Sarah and her family's experiences.
One of the ghosts or spirits is a Civil War soldier.
"My sister saw him walk from the dining room to the bar and then disappear," Sarah said.
There's also children, a set of twins who play tricks on people, she said.
"They like to hide things," among the items they apparently like to hide are Sarah's dad's keys.
"He's a creature of habit, he always puts his keys in the same place when he walks in."
But some nights the keys will be mysteriously missing and then her father ends up walking home. The next morning, however, the keys will be right where they should be, she said.
And yes, ghost hunters and psychics have visited Chances.
They have told the family the ghosts like them.
Once when Sarah was leaving the building with her daughter, who was about 5 at the time, her daughter told her: "Those ghosts at Chances don't look anything like Casper, but they're friendly."
Previously, the Fischbach family owned the place.
Walter Fischbach lived on the site for years. Sometimes, he would hear someone walking around the dance floor and hear the door open and close, he said, yet no one would be there.
Bartender Judy Hegemann has worked at Chances for eight years.
Although she has never seen any spirits floating by, "I feel something — they like to play with me. They like to hide things on me," she said.
Customers have told her they have felt being touched or tapped on the shoulder in the back dining room.
Jody and I found it all very interesting and unexplainable, which is why it intrigued us in the first place.
Whether it is truth or fiction or the results of overactive imaginations, it seems plausible only because so many people have reported so many occurrences, if nothing else.
Perhaps you'd like to test your own mettle on the subject; don't take our word for it. (We only told you about some of the stories; there are more).
To get to Chances, take Interstate 43 for about 33 miles, then take exit No. 33 to Bowers Road for a very short distance. Then turn left and head east on Country Road D for 11.5 miles. You will drive right into Rochester. The restaurant is located at 205 W. Main St. -
beloitdailynews
**********
The Orphan's Ghost
'Ghost dog' found at Delapre Abbey tea rooms
The Possession of Joseph and Theolbald Bruner
The Art of Mind-Hacking: Are There Innovative Ways to Improve Our Intelligence?
Lady Jane's Ghost
5 Best Cruises for Paranormal Enthusiasts 2011-2012
Barbican ghost?
Police employed "to guard haunted house" in Sandžak town
The Ghosts Of Wilson's Creek
Spirit 'captured' in photos during ritual
Describing Heaven: Pastor, Pronounced Dead, Says He Was There
How does a skeptic understand the 'paranormal'?
'Ghost Adventures' Clashes With Paranormal Researchers Over Unexplained Phenomena (VIDEO)
Sky Living axes 'Most Haunted'
Food and prayers offered during Hungry Ghost Festival
Agnostic guide to Wellington's ghosts
'Drowned' Boy Reveals the Psychology of Miracles
Serbian house allegedly haunted
Do Children Have a Sixth Sense?
The Angel of Joplin
Little Girl's Whisper
**********
YOUR SUPPORT IS STILL NEEDED AND APPRECIATED!
How much do you enjoy receiving 'Phantoms and Monsters'? Is it worth a contribution of a few dollars for a daily dose of the strange and unusual occurrences in our world?
There are two ways you can show your support. You can donate through PayPal by using the button at the bottom of the newsletter ('Donate' buttons are also located
on the blog
or go to the
PayPal homepage
and send the donation to my user email - lonstrickler@phantomsandmonsters.com ) or simply send your contribution by mail.
I truly hope you will consider endorsing 'Phantoms and Monsters' continued free service to it's readers. Thanks...Lon
Lon Strickler
'Phantoms and Monsters'
26 Coachman Ct.
Randallstown, MD 21133
USA
Spirit Rescue International™
Providing no-cost professional spiritual help, personal support and guidance
Take the first step towards genuine peace of mind
The Spirit Rescue International™ Haunted Help Forum
*Join Our Group On Facebook*
Join Eric Altman and Lon Strickler each Sunday at 10 PM ET as we go
Beyond the Edge!
ANOMALIST BOOKS
Works on maverick science, unexplained mysteries, unorthodox theories, strange talents, and unexpected discoveries. Please check out their excellent and diverse catalog
Become a fan of 'Phantoms and Monsters' at Facebook
"The latest news from beyond the mainstream"
Join Ben & Aaron for their weekly podcasts!
Check out Mysterious Universe Plus+ all access format!
Astral Perceptions - Discussing ultraterrestrial and multidimensional phenomena and the proficiency of remote viewing

Click here to check out Stan's most recent book!
Join the
The Social - Paranormal Network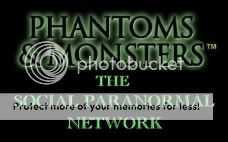 A NETWORK OF INVESTIGATORS, ENTHUSIASTS AND THOSE SEEKING THE TRUTH
THROUGH PARANORMAL EDUCATION AND DISCUSSION
Need an unique special occasion or business gift?
(410) 241-5974

Amazing technology that allows us to print almost anything in light!
Labels: Esoterica, paranormal, paranormal investigation, spiritual, unexplained phenomena
Have you had a close encounter or witnessed something unusual?
Send us an email
Receive notice of each 'Phantoms and Monsters' post in real time!
Go to Phantoms and Monsters - NetworkBlogs and sign up
It's free!
Click here for this week's entertaining podcast
Add 'Beyond The Edge' Radio to your playlist!