The following is another update from Robert Lindsay - More on the Sierra Kills and Bigfoot DNA. I have also posted some of my thoughts on this matter:
Regarding the Sierra Kills, in which two Bigfoots were shot and killed in Plumas County, California, in November 2010, new evidence has surfaced casting doubt on the shooter's story.

The shooter claims that he went back two weeks later and dug through the snow to find a 7 inch long by 4 inch wide by 3 inch deep "Bigfoot steak."

Many people have suggested that finding such a huge chunk of a dead Bigfoot in the snow two weeks later is dubious.

Bigfoot steak was carved off a body with a knife. We now have information that Dr. Melba Ketchum, who is running the DNA project, said that the Bigfoot steak seemed to have been carved off of a dead body with either a knife or some sort of tool. This suggests that the story about the shooter finding it two weeks later in the snow is not true. Instead, the logical suggestion is that the shooter carved it off the body before he left that day or took one or more of the bodies or parts with him and carved it off later.

Shooter wants amnesty from prosecution. Sources on Taxidermy.net continue to believe that the shooter took one or more of the bodies or parts of them with him that day and that he continues to hold evidence. They say that unless he gets an amnesty for prosecution for shooting the Bigfoots, he will disappear all of the evidence. I support giving the shooter amnesty. In fact, I put an attorney in touch with him for just that reason.

Erickson/Ketchum Project chaos. Ketchum and Adrian Erickson continue to have a huge falling out. For a long time, she was not even returning his phone calls. This is all because he won't sign one of her fancy new NDA's that gives her all the rights and him none. However, she did call him recently because she was upset at all of the leaks and was wondering who was behind them.

Ketchum paper accepted for peer review? According to a comment on Cryptomundo, Ketchum submitted her paper to a journal for peer review in early December 2010 and the journal accepted it early February 2011. That means that the paper meets the required scientific standards for the journal, and that, even if some reviewers have critical comments during the peer review process, it will still be accepted with some sort of changes, ranging from major to minor. If true, this is excellent news.

However, on June 11, 2011, Rich Germeau of the Olympic Project stated on a forum that the paper had not been sent out yet. So the situation is very confused.

However, if the commenter is correct and Germeau is wrong then the Ketchum paper is in much better shape than I thought it was.

Bigfoot steak DNA tests positive for a Bigfoot. On a recent radio show, JC Johnson and Derek Randles suggested obliquely that DNA tests on the Bigfoot steak had tested positive as coming from an actual Bigfoot.

Is the Sierra Kills story a hoax? Some people say that the Sierra Kills story is a hoax. They believe that the shooter hoaxed the story by making it up. He went to Taxidermy.net and made up a big story about killing two Bigfoots. Then he fooled the Olympic Project into believing his story. Then he somehow hoaxed the Bigfoot steak sent to Ketchum's lab, though in order to do this, he would have had to have cut a slice off of a very hairy human cadaver.

Sources who believe in this say that there could be various reasons why he would do this. For one, they say he is an extreme redneck and an ultra rightwinger who supposedly did not believe in Bigfoot before. They say this is just the sort of person who creates a Bigfoot hoax. They also feel that he is a highly disreputable and unreliable person, and this sheds doubt on his tale.

In addition, according to a thread on Taxidermy.net, two Black bears, a mother and a cub, were reportedly shot dead near the Dixie Mountain Game Refuge at the beginning of November 2010. The sources suggest that the shooter shot a female bear and her cub and turned that story into the shooting of two Bigfoots. Adding weight to this, the Nevada Department of Fish and Game, asked about the Sierra Kills story, said that it was two bears that were killed and not two Bigfoots.

As far as the Bigfoot steak, sources say that judging from the shooter's character, he would not be below slicing a piece off the thigh of a human cadaver.

I don't believe that this story is a hoax.

Shooter very religious, a polarizing personality. We have more information on the shooter. He moved from Texas to another state, apparently with his family, at at least age 16 and has lived in this state ever since. He is extremely religious – a fundamentalist Christian. I have seen a photo of him at age 16 after killing two bucks. His hair is dyed punk rock flame red and he has a pro-Christian t-shirt on.

I've been accused of harping on the shooter's character. It's true that I don't like him, and a lot of others don't either. However, he has a wife who loves him and a wide circle of friends.

Some people are just bad. Everyone agrees. Not so with this guy.

The shooter instead is more of a polarizing figure, something like his hero George Bush. The very things that those who don't like him hate about him are what make a lot of others think he's the greatest thing since sliced bread. As he says on his webpage: "I'm the type of guy you either love or hate. I'm fine either way." This is a much better way of looking at his character as opposed to flat out saying he's a bad guy.

Possible Sierra Kills government coverup. Supposing that the Sierra Kills actually happened, the Nevada wildlife officials' statements is evidence of the government coverup that I have long said must be happening in the realm of Bigfoot.

Possible government investigation into the Sierra Kills and the Bigfoot steak. A new piece by Loren Coleman reveals some very strange emails he has gotten about the Sierra Kills. He has received some emails from folks claiming to have some sort of government connection. They say that federal investigators are closely watching the Sierra Kills investigation. They are monitoring the web forums and blogs and they know who all the players are and what their roles are. When they feel that laws have been broken, they will act.

What is interesting about all of this is that it suggests that the Sierra Kills may have actually happened and that it was not a hoax. Or at least the government seems to think that it happened, or that something happened anyway, as the emails are confusing.

This all smells of Men in Black stuff, but I have said for a long time that MIB are involved in a coverup of Bigfoot evidence.

A Bigfoot is found dead in a man's yard in Washington state in 2003. He calls the police, but instead of police showing up, a black helicopter lands in his yard and MIB's get out armed with automatic weapons. They order the man into his home, load the Bigfoot into the copter and fly away.

A sheriff's deputy responds to a Bigfoot killed by the side of the road in Ohio. He radios for help, and backup shows up. They rope off the scene. Then state police show up. Then the National Guard shows up. Then a black van pulls up, two US soldiers get out, and they cart the Bigfoot to the van and drive away.

There are many more such stories. MIB's actually exist, but hardly anyone talks about them. Guys dressed all in black, black helicopters, black vans – that's all military intelligence, top secret, classified. I understand that a black helicopter was used in the killing of Osama bin Laden.
Here are the emails about the Sierra Kills case and Ketchum's lab using the Bigfoot steak:
I did hear from one of my retired federal investigator sources who still works for them as a consulting evidence expert. He told me essentially they know what is going on and are watching the situation. They have all the forum reports, know where the supposed samples came from, who is and who is not involved and what roles they're playing.

I get the feeling from him that national security is somehow involved. I don't know how except perhaps it might have something to do with release or misuse of technology that's considered vital (educated guess). This is a new area in advanced research and puts a real dent in the how much anyone working on new technology can say or release in any form.

Beyond this he can tell me nothing in specific except that when and if they decide laws have been broken they will act. I know he holds a Top Secret clearance with compartmentalizations. He has multiple degrees in scientific fields and consults for several agencies on evidentiary issues. My work for him was routine but he's really an interesting person.

He made no reference to any hoax other than to say they know what's going on and who's responsible. They will act if and when they decide the situation warrants it. It isn't quite as bad as portrayed in the Indiana Jones movies but almost so.
And this, also:
I suspect there's more beyond this supposed hoax than we'll ever know. This business with the so called Dr. Ketchum smells like another stinking hoax and you've done a good job of reporting like you did in 2008. However, this time I'm not buying into it. I don't know what's up but when one of the people I've done work for in my past government careers tells me for my own good to stay out of a mess I should take his advice.

It's an interesting twist with the feds watching the whole deal and I wonder what's up and why but like I said when a friend says stay out I stay out. I suspect that we'll never know the whole story. So much information is hidden in the name of national security that it's ridiculous.
- Robert Lindsay
-----
NOTE: I've been digging into this controversy since the 'leak' was made public. As a result and in general terms, I believe the following:

- The 'Sierra Kills' story is most likely a fabrication being used to cover-up an earlier discovery.

- Blood and tissue from an unknown hominid was collected from another location in the United States.

- The initial results from at least 2 separate DNA tests indicated a distinct link that may have national security implications.

Take it for what it's worth but I have my reasons for these statements. There are a lot of players involved in this controversy. As well, the Erickson Project 'leak' seemed a bit too strategic. The suspicion and aversion within the Bigfoot community along with the recent well-publicized hoaxes adds fuel to the fire...thus creating a consummate atmosphere that can be used to disperse misinformation. I don't like to second-guess cryptid claims unless there is an obvious enhancement of the facts and/or embellished evidence from a witness. Nonetheless I smell a cover-up and detect an 'end-around' with the 'Sierra Kills' claim. Lon
-----
UPDATE: From Olympic Project
This incident occurred in October of 2010 in Northern California. The persons involved will be known as Hunter 1, and Hunter 2. Hunter 1 is the shooter. Hunter 2 was driving the vehicle.
While driving down a dirt road looking for bear, hunter 1 and hunter 2 were noticing large piles of feces along their route. They commented on the amount they were seeing, and at the strange nature of it. They were having a rough time figuring out what was responsible. To big for Cougar, and didn't appear to be bear. It is important to note that they were hunting at considerable elevation. It's also important to note that they were legally hunting, with appropriate bear tags in a legal hunting area.
As the truck came around a corner they both noticed a large hair covered figure standing approx 80 to 100 yards in a meadow off to the side of the road. ( On the Bigfoot forum I previously said it was off to the left, that was my mistake, it was actually off to the right of the road.) The figure was standing on two legs with it's arms above it's head. It took roughly eight to ten steps toward the vehicle. The arms were moving a little either because it was walking, or it was intensionally swaying them. It was dirty grey in color with some black mixed in. The figure was very large. Hunter 1 decided it had to be a bear. It was completely hair covered, and from that distance good definition was impossible. Hunter 1 got out of the truck and leaned against the door aiming his riffle at the figure. He does admit that it looked strange but in his mind it had to be a bear. He did not believe in Bigfoot at that time. Hunter 2 was now looking at the figure and said " I'm not sure that's a bear". The shot was fired hitting it's mark in the chest region. The figure went down. It got back up immediately and started running on two legs, and then on all fours. It went from two legs to four legs a couple of times before it left view. A short time later they were very sure they heard it crash into the brush, although they never did confirm this. They couldn't believe what they were seeing.
They exited the truck and started across the meadow still wondering what just happened. When they reached the spot where it was standing they noticed movement in the nearby brush. Two smaller figures appeared from the brush and started circling around their position. The smaller ones were totally hair covered, but were much more black in color. They would go back and forth from two legs to four. They were exhibiting some type of chatter back and forth to each other. Hunter 1 and Hunter 2 described them as a cross between a gorilla and a bear. They said that they had very large heads, almost too big for their bodies. They also stated that the little ones had a much flatter face than a bear. They spent as much time on two legs as they did on four. The smaller figures began getting closer and closer, at on point, just a few yards. One of them climbed up a small outcrop above hunter 1. Hunter 1 started to get the feeling he might be attacked. He made a quick decision, turned and fired. The figure went down and rolled right down to Hunter 1's location. He lifted it up, and then placed it in the brush. They then decided that they needed to leave, now.
I, Derek Randles was put in touch with the hunters about two weeks later. I interviewed them both by phone extensively, and separately. I found that their story matched perfectly with no inconsistency's. I could also tell that they were natural and not rehearsed. Consequently, I've spent many many hour talking with hunter 1 one about all aspects of the story, and I completely believe him.
I then urged hunter 1 to return to the site and look around for any evidence from the incident. Upon returning they were greeted with roughly two feet of snow. The little one was not found. They concentrated their efforts in the area where they thought they heard the larger one go down. After digging though the snow for many hours they were able to find a piece of flesh, greasy fat and hair, but no body. The flesh and hair matched the color of the larger one exactly. White gray hair with some black in it.
I then asked him to forward a small piece of the flesh to Dr. Ketchum to have it analyzed for the current DNA study she's involved in. I cannot speak to the results at this time due to an NDA I've signed, but I will say that I 100% believe the story. Read into that what you will.
The site has been under snow since last November. Further study of the site is ongoing. To date, no bodies have been recovered or found. If and when a body or remains is discovered, the appropriate authority's will be notified.
The Olympic Project and Dr. Melba Ketchum do not advocate or condone the killing of a Sasquatch to advance science. That being said, if this sample can help with species verification and protection, then some good can come from a unfortunate incident. It's also important to note that this is but one of over a hundred samples the Olympic Project has contributed to this study.
Updates on this story will be available on this web site, and the story in it's entirety will be told by Hunter 1 when the time is right.
Thank You,
Derek Randles
NOTE: what is your assessment of the update? Does it help verify the claim or does it raise more questions. If there was flesh, why would there be no bone or even fragments? Is it one body or two (or three)? Does the scenario sound plausible to you?
-----
UPDATE: I have been given very credible assurance that Derek Randles' account is, for the most part, factual. I won't state more at this time but I am grateful for the confidence that has been afforded me...Lon
Spirit Rescue International™
Providing no-cost professional spiritual help, personal support and guidance
Take the first step towards genuine peace of mind
The Spirit Rescue International™ Haunted Help Forum
*Join Our Group On Facebook*
Join Eric Altman and Lon Strickler each Sunday at 10 PM ET as we go
Beyond the Edge!
ANOMALIST BOOKS
Works on maverick science, unexplained mysteries, unorthodox theories, strange talents, and unexpected discoveries. Please check out their excellent and diverse catalog
Become a fan of 'Phantoms and Monsters' at Facebook
"The latest news from beyond the mainstream"
Join Ben & Aaron for their weekly podcasts!
Check out Mysterious Universe Plus+ all access format!
Astral Perceptions - Discussing ultraterrestrial and multidimensional phenomena and the proficiency of remote viewing
Beyond the Veil Paranormal Research

Click here to check out Stan's most recent book!
Join the
The Social - Paranormal Network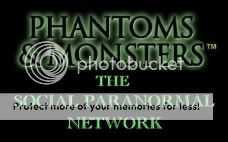 A NETWORK OF INVESTIGATORS, ENTHUSIASTS AND THOSE SEEKING THE TRUTH
THROUGH PARANORMAL EDUCATION AND DISCUSSION
(410) 241-5974

Click to order John Ventre's new book
Phantoms and Monsters
Now Available on Kindle
Labels: bigfoot, cryptozoology, DNA, Erickson Project, Melba Ketchum, sasquatch
Have you had a close encounter or witnessed something unusual?
Send us an email
Receive notice of each 'Phantoms and Monsters' post in real time!
Go to Phantoms and Monsters - NetworkBlogs and sign up
It's free!
Click here for this week's entertaining podcast
Add 'Beyond The Edge' Radio to your playlist!