From ProjectSasquatch:
This sighting was videoed June 2011 by a group of teenagers. Video was submitted to Project Sasquatch and uploaded raw and unedited.
A bit skimpy on the information...also, look at the head / face of the screen capture. What do you make of that?
Click for video - Raw Sasquatch Video Capture in North America
-----
New trace of 'Shennongjia Wildman' found in SW China
Five footprints, believed to be traces left by the legendary "Shennongjia Wildman," have been found in Chengkou county, part of Southwest China's Chongqing Municipality, according to a report from cqnews.net on Monday.
The report says that the alleged "Wildman" was first found by Wang Taizhao, a local villager, on the morning of June 2 while he was fertilizing his corn field.
"I was so scared," Wang said, "First I heard a strange noise from the woods near my corn field, which I thought to be the bark of a dog. Then I spotted a human-like creature approaching. I took a flight to my house with great haste."
According to Wang, the creature was 160-170 cm in height, with red and yellowish hairs covering its body. Its eyes, nose and mouth were all reminiscent of human features.
Wang later reported his encounter with the Wildman to the head of his village.
About 20 days later, police from the Public Security Bureau of Chengkou county came to the corn field where Wang Taizhao came across the creature and detected five footprints. The police made plaster copies of the footprints for further research.
Chengkou county, located at northeastern part of Chongqing, is near to Shennongjia, in central China's Hubei Province, where many cases involving sightings of "wildmen" have been reported. -
globaltimes
Spirit Rescue International™
Providing no-cost professional spiritual help, personal support and guidance
Take the first step towards genuine peace of mind
The Spirit Rescue International™ Haunted Help Forum
*Join Our Group On Facebook*
Join Eric Altman, Lon Strickler and 'The Forkchop' each Sunday at 10 PM ET as we go
Beyond the Edge!
ANOMALIST BOOKS
Works on maverick science, unexplained mysteries, unorthodox theories, strange talents, and unexpected discoveries. Please check out their excellent and diverse catalog
Become a fan of 'Phantoms and Monsters' at Facebook
"The latest news from beyond the mainstream"
Join Ben & Aaron for their weekly podcasts!
Check out Mysterious Universe Plus+ all access format!
Astral Perceptions - Discussing ultraterrestrial and multidimensional phenomena and the proficiency of remote viewing

Click here to check out Stan's most recent book!
Join the
The Social - Paranormal Network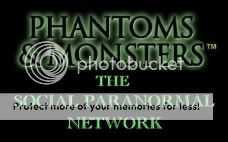 A NETWORK OF INVESTIGATORS, ENTHUSIASTS AND THOSE SEEKING THE TRUTH
THROUGH PARANORMAL EDUCATION AND DISCUSSION
(410) 241-5974

Click to order John Ventre's new book
Phantoms and Monsters
Now Available on Kindle
Labels: bigfoot, China, cryptozoology, hominid, sasquatch
Have you had a close encounter or witnessed something unusual?
Send us an email
Receive notice of each 'Phantoms and Monsters' post in real time!
Go to Phantoms and Monsters - NetworkBlogs and sign up
It's free!
Click here for this week's entertaining podcast
Add 'Beyond The Edge' Radio to your playlist!