"The above photo was taken after the creature had submerged. But the wake it left behind was pretty impressive"- William J. Gibbons
Cryptomundo.com
is reporting on a recent sighting of the infamous Ogopogo at Lake Okanagan in British Columbia. Sighting reports of this cryptid are usually met with a fair amount of skepticism...this sighting is no different. The report was made by William J. Gibbons and forwarded to Cryptomundo.com. Gibbons and his companions state that they witnessed Ogopogo on July 2nd, 2011 while cruising Lake Okanagan. A future video of the encounter is promised.
Go to the post and read the full report...then
read the update
. Gibbons was a bit disturbed by the Cryptomundo.com readers' comments and offered the following:
bgibbons responds:
July 6th, 2011 at 12:23 am

@greg102- I am beginning to regret even sending this report in, because people like you obviously do not pay attention to what I actually wrote. Further, you were not there, so how can you pass judgement on this occurrence?

Let me explain again in simple language.

1. The water was flat calm.

2. There were no boats moving on the water in any direction that could have caused any kind of disturbance directly in front of us.

3. The disturbance occurred when a sudden upheaval of water happened immediately in front of our boat.

4. Being close to the object allowed me to observe the back of the animal protruding slightly above the waves that it caused, eliminating the cause as a mere boat wake or a line of energetic sturgeons, etc.

5. The head of the animal broke the surface only briefly.

6. We did not claim our observation as "evidence." It was simply an observation, and of a large creature that briefly broke the surface and moved rapidly away from west to east before submerging about 10-12 seconds later.

7. To me, solid evidence constitutes physical remains or at least part of a specimen from which specific zoological data can be extracted. Only crystal clear film and photographic evidence of a cryptid is the next best thing but not conclusive.

Finally, do try to reserve your comments to subjects that you are actually knowledgeable in. Cryptozoology, however, does not appear to be one of them.
-----
The current generated waves on Lake Okanagan have be documented for decades though people still insist that Ogopogo exists. Here are a few links to videos that show these waves generating naturally.
The Wake Of Ogopogo
Lake Okanagan waves
NOTE: I'm going to state that Ogopogo or a large fish does not inhabit Lake Okanagan...but I doubt most of the sighting reports. Here are a few links from previous posts - Ogopogo Spotted on Google Earth? - Ogopogo? Large Snake-Like Creature Spotted in Okanagan Lake - Carcass From Okanagan Lake...is it Ogopogo? - MonsterQuest to Reveal Results of 'Baby Ogopogo' Carcass Discovery - 'History Channel' Film Crew Discover Unknown Creature at Okanagan Lake - New Ogopogo Sighting Reported - Cryptid Tourism Produces Major Revenue Stream...Lon
Spirit Rescue International™
Providing no-cost professional spiritual help, personal support and guidance
Take the first step towards genuine peace of mind
The Spirit Rescue International™ Haunted Help Forum
*Join Our Group On Facebook*
Join Eric Altman, Lon Strickler and 'The Forkchop' each Sunday at 10 PM ET as we go
Beyond the Edge!
ANOMALIST BOOKS
Works on maverick science, unexplained mysteries, unorthodox theories, strange talents, and unexpected discoveries. Please check out their excellent and diverse catalog
Become a fan of 'Phantoms and Monsters' at Facebook
"The latest news from beyond the mainstream"
Join Ben & Aaron for their weekly podcasts!
Check out Mysterious Universe Plus+ all access format!
Astral Perceptions - Discussing ultraterrestrial and multidimensional phenomena and the proficiency of remote viewing

Click here to check out Stan's most recent book!
Join the
The Social - Paranormal Network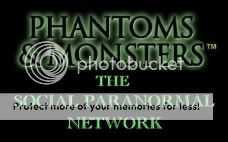 A NETWORK OF INVESTIGATORS, ENTHUSIASTS AND THOSE SEEKING THE TRUTH
THROUGH PARANORMAL EDUCATION AND DISCUSSION
(410) 241-5974

Order John Ventre's New Book
Phantoms and Monsters
Now Available on Kindle
Labels: British Columbia, Canada, Cryptomundo.com, cryptozoology, lake monster, Ogopogo, unexplained phenomena, zoology
Have you had a close encounter or witnessed something unusual?
Send us an email
Receive notice of each 'Phantoms and Monsters' post in real time!
Go to Phantoms and Monsters - NetworkBlogs and sign up
It's free!
Click here for this week's entertaining podcast
Add 'Beyond The Edge' Radio to your playlist!