Ghosts have reportedly been seen at Ireland's Connolly Station in Dublin, leading to some Irish ghost hunters claiming they have received multiple reports of strange happenings at the busy train station in the city center.
Perhaps it's not so strange as it sounds, as many commuters found it easy to believe people had died waiting for tardy trains.
Paranormalist Tim Kelly told the Herald that he wants to hear reports from commuters who may have witnessed something strange or startling.
"We've heard that there is poltergeist activity in Connolly Station," Tim told the Herald. "We want to find out what this is all about because it could be huge."
It could be huge, but at the moment it's completely unsubstantiated. Even the plucky Ghost Busters admit they have yet to approach CIE (the Irish train service) and the operators of the station to obtain permission to investigate. But they say they're more than prepared.
"It would take an hour and a half to set up. We have thermal imaging cameras, cutting-edge stuff," Kelly explained. "We go in like the American teams - it's a very technical approach. We'll have four or five cameras on the night," Kelly said.
"Sometimes the human ear can't pick up the voices and they are only audible once recorded on the audio recorders and reviewed," Tim added. -
irishcentral
NOTE: there have been several recent sightings starting in January 2011...but historically, there have been rumors of the apparitions since the 1990's when a major rehab was done on the station. I once heard reports of loud 'booming' sounds in and around the station. During WWII, the station did take a direct hit from a German aerial bombardment but it is uncertain if this was a residual of that attack...Lon
Spirit Rescue International™
Providing no-cost professional spiritual help, personal support and guidance
Take the first step towards genuine peace of mind
The Spirit Rescue International™ Haunted Help Forum
*Join Our Group On Facebook*
ANOMALIST BOOKS
Works on maverick science, unexplained mysteries, unorthodox theories, strange talents, and unexpected discoveries. Please check out their excellent and diverse catalog
The 'C' Influence
Actualizing Esoteric Discussion
Become a fan of 'Phantoms and Monsters' at Facebook
"The latest news from beyond the mainstream"
Join Ben & Aaron for their weekly podcast!
Check out Mysterious Universe Plus+ all access format!
Astral Perceptions - Discussing ultraterrestrial and multidimensional phenomena and the proficiency of remote viewing
Join Eric Altman, Lon Strickler and the crew LIVE each Sunday at 10 PM ET as we go
Beyond the Edge!

Click here to check out Stan's most recent book!
Click here to check out John Ventre's most recent book!
Join the
The Social - Paranormal Network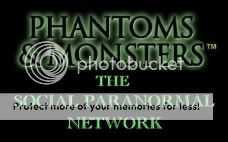 A NETWORK OF INVESTIGATORS, ENTHUSIASTS AND THOSE SEEKING THE TRUTH
THROUGH PARANORMAL EDUCATION AND DISCUSSION
(410) 241-5974

Phantoms and Monsters
Now Available on Kindle
Labels: Dublin, ghosts, Ireland, paranormal, paranormal investigation, unexplained phenomena
Have you had a close encounter or witnessed something unusual?
Send us an email
Receive notice of each 'Phantoms and Monsters' post in real time!
Go to Phantoms and Monsters - NetworkBlogs and sign up
It's free!
Click here for this week's entertaining podcast
Add 'Beyond The Edge' Radio to your playlist!