The Enduring Ghost of Anne Boleyn
The ghost of Queen Anne Boleyn is quite a unique phenomenon in the world of the paranormal. Unlike most ghost who haunt a certain locality, Queen Anne Boleyn's ghost is said to haunt a number of different locations through out the UK. Her spirit seems to have left a permanent imprint on the fabric of her surroundings, which is perhaps down to the impact she made in life and her traumatic death as to why her ghost still persists more than 500 years after her execution.
Anne Boleyn was the second wife of King Henry VIII, with their marriage changing the course of English History. King Henry was already married to Catherine of Aragon and could not obtain a divorce from the Roman Catholic Church. In order to obtain his divorce he therefore created a reformed version of the Church, putting himself at the head - a direct challenge of authority to the Pope.
Having obtained his divorce and married Anne, the King's most important desire was for Anne to conceive a male heir. His previous queen had only given him a female heir, Princess Mary. On 7th September 1533 Anne Boleyn gave birth to a girl, Elizabeth (who was later to become Queen Elizabeth I). After her birth, the relationship between the King and Anne Boleyn deteriorated, and he began to court a new queen in Jane Seymour.
However, Anne became pregnant again, and there was a brief reconciliation, but the child was stillborn. Henry determined to get rid of Anne Boleyn and came up with a charge of treason, arresting and confining her to the Tower of London. Her execution had been scheduled for 18 May 1536 but actually took place the following day as there had been a delay while a skilled executioner was brought in from France.
Queen Anne Boleyn is one of the most enduring ghosts at the Tower of London. Queen Anne is buried under the chapel's altar, with her ghost being spotted there on many occasions. Anne Boleyn has also often been seen standing at the window in the Dean's Cloister at Windsor Castle.
Anne Boleyn's ghost also appears in the grounds of Blickling Hall dressed all in white, seated in a ghostly carriage that is drawn by headless horses, spurred on by a headless coachman. Anne too is headless, holding her severed head securely in her lap. On arrival at Blickling Hall the coach and driver vanish leaving the headless Anne to glide alone into Blickling Hall where she roams the corridors and rooms until daybreak.
The magnificent Blickling Hall was built during the reign of King James I, by the Holbert Family, on the ruins of the old Boleyn family property. Blickling Hall in Norfolk has recently topped a National Trust poll as the Trust's Most Haunted Building. Blickling Hall was in the possession of the Boleyn family between 1499 and 1507. There is a statue and portrait of Anne Boleyn in the Hall, the statue is inscribed "Anna Bolena born here 1507".
Her brother, Lord Rochford, also appears on the same night, he too is headless although he doesn't enjoy the comfort of a carriage, for he is dragged across the surrounding countryside by four headless horses.
Sir Thomas Boleyn, who stated his belief of Anne's guilt at her trial has not found peace in death. Every year, for a thousand years to do as penance, tradition says he is obliged to drive his spectral coach and horses over twelve bridges that lie between Wroxham and Blickling.
*********
The interim results of an online paranormal phenomena survey by Psychic Revolution indicate that more people than ever are turning to EVP (Electronic Voice Phenomena) to contact the deceased. One reason for this may be the ease of access to electronic equipment. However, this finding may also point to an increased need to establish contact with their dead.
EVP or Electronic Voice Phenomena is the newest weapon in the armory of the amateur parapsychologist. Those wanting to pursue paranormal phenomena into the other realms are now using modern day technology to do so.
In an ongoing survey on paranormal phenomena, researcher, Rosemary Breen, the founder of Psychic Revolution has discovered that more people than ever are talking about how they use EVP to contact the dead.
Electronic Voice Phenomena recordings are made using everyday household items such as tape recorders, fax machines, television sets, computers, and whatever else people can get their hands on, such as telephone answering machines.
The recordings register electronically generated background noise which can, on playback resembles decipherable sounds.
"In the first survey round, which I ran for my university dissertation, there was barely a mention of EVP," said Ms. Breen.
"Now, three years later, I'm noticing how frequently people are opening up and writing about their personal use of electronic equipment to record their own paranormal encounters with the deceased.
"EVP has definitely become a common past-time for more people. In its early days, EVP was really the sole domain of those geeks who went about carrying tape recorders. However, of late, it seems more people are actively using this medium to contact the dead, and sometimes with dire consequences."
What follows are three extracts from the current survey.
1. The earliest account of EVP dates back the 80's, long before technology became commonplace and central to our lives. This survey respondent writes:
"The small town I was living in had an old cemetery on its outskirts.
"It used to be part of a concentration camp during the Boer War and, as such, was more likely than not to have seen its fair share of horror.
"One night a friend and myself decided to go to the graveyard for a spot of ghost hunting. I took along an old mono cassette player (advanced for its time) because I had been reading about EVP's and was excited to experiment.
"Later that evening we set off. Wrapped up warm with provisions for a small army we were prepared to stay till the sun rose. We set up 'camp' in amongst the old headstones in the middle of the graveyard and I wandered about with my tape player, recording as I went.
"After about 2 hours we sat chatting. That's when I heard it, not far away, but on the edge of my hearing range.
"The night was still and quite, but there was something. I could feel the noise rather than hear it. We both stood up, straining our eyes. Even though the sky was clear and with our eyes well adjusted to the dark, the cemetery was full of large, looming gum trees and they cast moonlit shadows over much of the ground.
"Large stone angels and other carved guardians helped obscure our view as well. There it was again. Louder and more of the same.
"It now sounded like something large tumbling in our direction but we could see nothing. Louder. Louder. Could still see nothing.
"Then, suddenly they were upon us. I screamed like a girl and would have run if I could. My friend had fled like a greyhound, hitting his horizontal terminal velocity in a heartbeat.
"Directly in front of me, out of the dark, a small drove of donkeys came to a screeching halt, panicked, and shot off in all directions.
"I calmed down, found my friend who was as white as the marble cross he hid behind, and we laughed hysterically. We decided that we had had enough excitement for one night and went home.
"Once there, I fetched my sister's cassette player. It was far more sophisticated with an equalizer and other twiddly bits and you could clean up cassette sounds very well with it.
"I got into bed, plugged in my headphones, switched off the light and pressed play. There was the faint hiss of static and me crunching through fallen leaves and softly asking if anyone was there. Did anyone have anything they wanted to say?
"I must have dropped off to sleep at some point but was woken by a different voice. Faint but not whispered, male, gruff, and foreign. There were other voices too, far away and hurried, lasting only a few seconds.
"None of them seemed to be English. I shot out of bed and switched on the light.
"I didn't sleep much that night but listened to the tape over and over again. No one believed me and dismissed the voices as a number of things. I know what I heard.
"I just don't understand the foreign aspect to it. Unfortunately, time and a penchant to country hopping stole the tape from me. I never tried doing this again."
More recently, another type of EVP investigator has emerged. This group may still comprise amateurs but, as the following survey extract show, these EVP enthusiasts are more organized, more focused, more professional, and, just as vulnerable.
2. The next encounter involve more than EVP, as paranormal accounts often do. It tells of walk-ins, poltergeists and angels.
"I am a paranormal investigator and have witnessed, with my team, a poltergeist in the form of an intelligent but nasty spirit. This spirit communicated with us by tapping yes and no and answered questions that were researchable through historical records.
"The spirit also had a dark entity attached to it. I have hard evidence of this spirit in the form of EVP and photos.
"The spirit attached to our ex team leader and then attached to me. The spirit was a convict hanged in Australia.
"Attachment to the team leader was detrimental and affected her whole life in a negative way.
"Attachment to myself could have turned out to be the same but I had an visitation from an angel which I saw with my 3rd eye and felt the energy.
"I saw the angel do something to the spirit and that spirit was very changed after that. He is still with me but not like how he used to be.
"I am very aware of him, as are my team, and I still get evidence of him on investigations. I hear him telepathically and feel him. His energy is not as strong now.
"I am not religious but I do believe in god. This spirit has taught me about the afterlife a great deal and about some abilities that I have.
"I have witnesses and evidence to back up what I say here. I have been investigating for a few years now. I am a nurse and 49 years old."
3. The final EVP report demonstrates how some people are actively seeking to maintain contact with deceased loved ones that they knew in this life. Can the bonds made now really live on beyond the grave? It would seem so.
"When I became a paranormal investigator, about 3 years ago, my mother and I would have long talks about life after death.
"My mother felt that she would go to Heaven, and live as a spirit. I agreed with her, and asked her to contact me if possible when she passed. She agreed to try, and her death was on (date removed).
"After the funeral, my wife and I returned to the cemetery, to take photos of the flowers. I took about 12 photos and all were normal, except the first two.
"The first shows a mist form on the ground, and several more around the grave. The second shows looping mist trails over the grave, but none of this was visible to the eye.
"I honestly believe that this was my mother's first message to me.
"Since then I have recorded several EVP messages from my mother. The messages have decreased, but I still receive them. I used to have questions of Heaven and Hell, but I have recorded enough EVP, to convince me that these things are very real.
"In one EVP, an unknown spirit says my mother has wings, and she came to where I was.
"She was called by her maiden name, and it is quite unusual. Her maiden name is (name removed), which is Indian." -
prweb
**********
These EVPs were captured late during an on-site session (6/1) in a bedroom at the Llanelli location...this was edited and compiled from a 10 min. audio clip. These files were not reviewed until after the third remote view session (6/2) where a few of the team heard my name being called:
Llanelli bedroom
. The results of the latest remote view session and clearing attempt will be made available after a subsequent on-site session and consultation with the clients...but I will say that the team is very encouraged with recent developments.
For updates on this case and all of the SRI case logs, go to
Spirit Rescue International - Cases
.
Access to Spirit Rescue International case logs requires registration
. SRI currently has one other active case and two others in the queue.
Spirit Rescue International™ is a non-profit group that combines the resources of our affiliates worldwide in order to achieve a successful entity clearing. Our mission is to provide professional, confidential and ethical spiritual relief, including continued personal support and guidance at no cost to the client. If are in need of help, please use the
Contact Form
for your inquiry.
**********
THIS WEEK'S SPIRITUAL / PARANORMAL ACTIVITY NEWS
When Ghosts Attack
A Close Look at Therapeutic Touch
Not Your Everyday Ectoplasm: Spirit Mediums and Nonhuman Weirdness
My Daily Bedlam and the Ghosts of the Lost Regiment
Forseeing a Fortean Future?
Relatives testify in faith healing trial
The Haunted History of Dorothea Dix Hospital
10 Hotels With Spooky Ghost Stories In The U.S.
The Hauntings of Okie Pinokie Uncovered – Truth of the Haunt Revealed – Peru, Indiana
Zombies, Vampires, and Jesus Christ (Oh, My!)
Paranormal Team Reveal Signs of Possible Haunting
Are Ghosts Real? Guy Lyon Playfair's Thirty-Year Investigation Yields Insights
Poltergeist Phenomena Primer
Haunted Collector Raises 11 Questions About Haunted Objects
Psychic stress not paranormal
Signs of afterlife
'Satanic' desecrations stir polarized Venezuela
Spirit Rescue International™
Providing no-cost professional spiritual help, personal support and guidance
Take the first step towards genuine peace of mind
The Spirit Rescue International™ Haunted Help Forum
*Join Our Group On Facebook*
ANOMALIST BOOKS
Works on maverick science, unexplained mysteries, unorthodox theories, strange talents, and unexpected discoveries. Please check out their excellent and diverse catalog
The 'C' Influence
Actualizing Esoteric Discussion
Become a fan of 'Phantoms and Monsters' at Facebook
"The latest news from beyond the mainstream"
Join Ben & Aaron for their weekly podcast!
Check out Mysterious Universe Plus+ all access format!
Astral Perceptions - Discussing ultraterrestrial and multidimensional phenomena and the proficiency of remote viewing
Join Eric Altman, Lon Strickler and the crew LIVE each Sunday at 10 PM ET as we go
Beyond the Edge!

Click here to check out Stan's most recent book!
Click here to check out John Ventre's most recent book!
Join the
The Social - Paranormal Network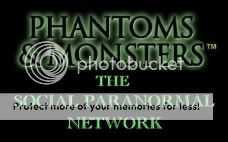 A NETWORK OF INVESTIGATORS, ENTHUSIASTS AND THOSE SEEKING THE TRUTH
THROUGH PARANORMAL EDUCATION AND DISCUSSION
(410) 241-5974

Phantoms and Monsters
Now Available on Kindle
Labels: entity, ghosts, paranormal, paranormal investigation, Spirit Rescue International, spiritual, SRI, unexplained phenomena, Wales
Have you had a close encounter or witnessed something unusual?
Send us an email
Receive notice of each 'Phantoms and Monsters' post in real time!
Go to Phantoms and Monsters - NetworkBlogs and sign up
It's free!
Click here for this week's entertaining podcast
Add 'Beyond The Edge' Radio to your playlist!