Foyers shop and cafe owner Jan Hargreaves and her husband Simon believe they caught a glimpse of Loch Ness's most elusive resident — Nessie.
It was while taking a break on the store's front decking — looking out to the loch — when Mrs Hargreaves and kitchen worker Graham Baine spotted an unusual figure cutting a strange shape through the water.
"We were standing looking out and saw something that looked bizarre," said Mrs Hargreaves.
"I said to my husband to come and have a look.
"We stand here all the time and look out and we see boats and kayaks but it didn't look like anything we have seen here before."
Despite the unidentified creature being quite a distance from their vantage point, 51-year-old Mrs Hargreaves said it had a long neck which was too long to be that of a seal and it was black in appearance.
"It went under the water and disappeared for probably 30 to 40 seconds and then came back up again," said Mrs Hargreaves.
"It was around for a good four to five minutes. It was just so strange."
Keen to stress she is not seeking publicity, Mrs Hargreaves does firmly believe what she saw was the Loch Ness Monster.
"It was so exciting," she declared.
Since August last year, The Waterfall Cafe and Foyers Stores with post office, opposite the village's famous Falls of Foyers, has been run by Mr and Mrs Hargreaves.
Nessie hunter Steve Feltham, who lives in a former mobile library turned research centre on Dores beach, said he heard about the possible sighting when he popped into the store last week and believes because it was from residents rather than tourists, it is more credible.
"I'm excited by the fact it was locals who had seen it," said Mr Feltham.
"It's quite a distance from the shop to the water and they watch everything that goes on there.
"For them to be impressed then there is a possibility it could have been Nessie."
What particularly excited Mr Feltham was that it was from the exact same vantage point where Tim Binsdale shot the best footage of the legendary creature back in 1960.
"I'll put the sightings with the other sightings," said Mr Feltham. "I will also continue to carry out surface observations."
The sighting was recorded on Wednesday afternoon between 2.30pm and 3pm. -
inverness-courier
NOTE: here are a few recent 'Nessie' related posts - Science Professor Believes Loch Ness Monster Family Exists - Retired Detective Insists 50 Year Old Loch Ness Monster Footage Authentic - Nessie Surfaces Again?...Lon
Spirit Rescue International™
Providing no-cost professional spiritual help, personal support and guidance
Take the first step towards genuine peace of mind
The Spirit Rescue International™ Haunted Help Forum
*Join Our Group On Facebook*
Join Eric Altman, Lon Strickler and Sean Forker LIVE each Sunday at 10 PM ET as we go
Beyond the Edge!
ANOMALIST BOOKS
Works on maverick science, unexplained mysteries, unorthodox theories, strange talents, and unexpected discoveries. Please check out their excellent and diverse catalog
The 'C' Influence
Actualizing Esoteric Discussion
Become a fan of 'Phantoms and Monsters' at Facebook
"The latest news from beyond the mainstream"
Join Ben & Aaron for their weekly podcast!
Check out Mysterious Universe Plus+ all access format!
Astral Perceptions - Discussing ultraterrestrial and multidimensional phenomena and the proficiency of remote viewing

Click here to check out Stan's most recent book!
Join the
The Social - Paranormal Network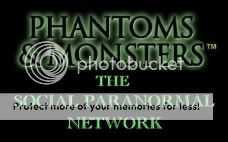 A NETWORK OF INVESTIGATORS, ENTHUSIASTS AND THOSE SEEKING THE TRUTH
THROUGH PARANORMAL EDUCATION AND DISCUSSION
(410) 241-5974

Phantoms and Monsters
Now Available on Kindle
Labels: cryptid, cryptozoology, Loch Ness Monster, monsters, Scotland, UK
Have you had a close encounter or witnessed something unusual?
Send us an email
Receive notice of each 'Phantoms and Monsters' post in real time!
Go to Phantoms and Monsters - NetworkBlogs and sign up
It's free!
Click here for this week's entertaining podcast
Add 'Beyond The Edge' Radio to your playlist!