Creatures washes up on Barbados beach
June 1, 2011 - Could the be the sea monster that fisherman Joel Brooker and his partner spotted at sea last November?
Whatever it was, it attracted dozens of residents yesterday as they descended on a section of the Silver Sands Beach in Christ Church to get a view of the huge, white unknown creature, which appeared to be dead.
Howard Kirton, a fisherman from the area, discovered it. He said around 11 a.m. he was about to go for a swim when he saw the creature.
Kirton said he alerted a few people nearby.
"I then called The NATION and the Fisheries Division," he said.
As the waves lashed the creature, residents inched closer to get a good view and even photograph it. Some speculated that it was a dead whale.
An official of the Coastal Zone Management Unit said when a team arrived "it was already washed out to sea" and therefore they were unable to identify it. -
nationnews
then 2 weeks later....
Another 'Globster' washes up on Barbados
June 18, 2011 - That mysterious carcass is back on the beach on the south coast.
This time, it is beached at Atlantic Shores, Christ Church.
The fleshy, smelly seaweed covered section was discovered by weekend visitors staying at a guesthouse in the area.
One woman, who did not want to be identified, said she noticed something was floating in the water from Friday night.
"I thought it was a man," she said.
"Then, as I watched it, it looked like a very tall mound of seaweed."
However, the woman said after she had observed it, she realised it "was definitely something dead".
It was at the end of May that a section of carcass washed up on Silver Sands beach in Christ Church.
At that time, officials from the Coastal Zone Management Unit were unable to identify the carcass as it had washed out to sea by the time they arrived. -
nationnews
**********
Argentina: Residents of Santiago [del Estero] Terrified by "Striking Imp"
Date: 06.15.2011
Source: Rosario3.com
Scott Corrales - Inexplicata-The Journal of Hispanic Ufology
Local residents state that the small creature appears in dark places and pummels people. Police has issued a statement asking people not to walk alone in the dark.
Do imps exist? It seems that they do in Santiago del Estero. According to residents of Suncho Corral, there appears to be a creature that hits people. Locals have taken to calling it "the dwarf", and police have cautioned people to avoid walking alone at night.
The Nuevo Diario de Santiago del Estero newspaper reports that residents of Suncho Corral allege that the imp appears in the pre-dawn hours, adding that it also attacked a child on its way to visit a friend's house.
Another local was startled by the creature as he went for a ride in his bike. The creature supposedly wore "an enormous hat and had large ears."
Father Juan Cruz Fariña of the San Miguel Arcangel church believes that it could be "a product of magic" and if so, "The Church could attempt an exorcism in an effort to expel demons from the possessed body." However, he explained that "nothing about this case suggests a possession. It could be many other things, such as fanciful imaginings or confusion by the people of Suncho. I therefore ask everyone to take matters calmly and above all, to have faith in God. There is an explanation to all phenomena."
[Note: Cases involving supernatural entities variously described as "imps", "dwarves", "goblins", etc. have emerged from Argentina on many occasions. Skeptics have scoffed at these accounts, decrying the ignorance of the local population. These manifestations are nonetheless recurrent and appear to select certain areas of the vast Argentinean countryside, such as the city of Saenz Peña or Santiago del Estero. No photograph or sketch accompanies this report. In a certain way, the description given of this imp is reminiscent of the "little man wearing a hat reminiscent of a Mexican hat" in Farmersville, Texas, in 1913. – SC]
**********
Deer dropped on power line causes outage
Nature dropped a line in East Missoula, MT. Literally. NorthWestern Energy officials confirm that a young fawn, dropped by a bald eagle, was responsible for Wednesday morning's power outage. Lee Bridges was outside taking photographs of a bald eagle sitting in the tree above her house and said while she sees the eagles fly by all the time, her tree is not usually a stopping point.
"They never come over here and when it perched up in that tree, I thought, I gotta get pictures or nobody's gonna believe me," Bridges said. Bridges soon noticed the power was out inside her house on Clyde Street and a NorthWestern Energy crew was already working in the alley nearby.
"I said, 'What was the problem?' So he rolls down the window and he points up in the air right over my head at this power line and goes, 'You see that?' And I look up and he goes, "You've got a deer with wings.'"
It was the body of a young fawn. Northwestern Energy and Bridges determined the bald eagle dropped its breakfast on its way back to the nest. NorthWestern Energy restored power within 30 minutes.
**********
Sheep stuck on the roof
This is the bizarre moment two fire engines were called to rescue a sheep - which was stuck on the roof of a house.
Stunned residents dialled 999 after the creature was spotted scrambling across roof tiles in the remote village of Pontycymer, South Wales.
A team from Bridgend Fire and Rescue Service took 40 minutes to bring the animal down from the terraced row using a Large Animal Rescue appliance.
Homeowner Claire Walters, 38, photographed the drama as it unfolded on the roof of her house on Saturday afternoon.
She said, 'I was sitting in my lounge watching television when suddenly I could hear a noise out in the street.
'When I went outside and was facing the front of my house, I looked up towards the roof and there was a sheep standing there.'
A spokesman for Bridgend Fire and Rescue Service said the sheep had got on to the roof by climbing up from a garage at the rear of the terrace.
He said, 'We have never had anything like that before, though we have found sheep in some difficult places.
'It was running back and forward on the roof, but eventually it must have realised how many firefighters were there trying to get it down. So it thought, I'd better come down now.
The spokesman added that the sheep was fine and had not been harmed by its adventure.
'It was certainly an interesting call-out, it's not where you'd expect to find a sheep, really quite funny,' he added. 'It brightened up our weekend, that's for sure.' -
dailymail
**********
Where's The Evidence For Alien Visits To Earth?
Prompted by the Mars "structure" YouTube video posted on The Two-Way blog the other day, I couldn't resist bringing back a classic, the
alien autopsy video
.
You will watch, no doubt with your mouth agape, the autopsy of an alien corpse recovered from the remains of his (hers?) spaceship, crashed (shot down?) in Roswell in 1947.
The video portrays the exact reversal of what so many abductees say happens to them: the surgical bed, the doctors performing tests, the gruesome nature of the whole thing.
Too bad that Ray Santilli, the video producer responsible for the footage, admitted that the video was a hoax. (Although he did say some frames were original, you know, just to keep believers believing ... )
So, the question is: Why do millions of people believe in such nonsense?
As fans of the X-Files know, it's summed up in the poster hanging on FBI agent Fox Mulder's wall: "I want to believe."
If we were to use current technology to fly to Alpha Centauri 4.4 light years away, the closest star to the sun (Proxima Centauri is a bit closer, but is a red-dwarf.), it would take over 100,000 years to get there. The distances are astonishing and wormholes, as far as we can tell, aren't opening up in space just yet.
There are many arguments against alien visitation and I will take this up again soon. But just for starters, apart from the technological difficulties of interstellar travel (what do we know, right? "They" could have found much faster ways to move about), there is also a complete absence of convincing evidence.
Sorry, but the video was a hoax and there is no conspiracy of scientists hiding the truth from an unsuspecting public. Who more than a scientist — who has devoted his/her life to the study of the universe and of life — would love to have conclusive evidence of intelligent life elsewhere? That would be truly amazing!
The fact is that no radio signals, no sample of alien technology, no truly real sighting of a UFO that couldn't be explained with far simpler arguments involving atmospheric disturbances, weather balloons or just plain aircraft in funny visibility conditions, have been registered.
Perhaps it's time we simply accepted the fact that even if we are not alone in our galaxy or the universe (absence of evidence is not evidence of absence, as Carl Sagan liked to remind us), for all practical purposes our cosmic isolation amounts to us being alone.
This doesn't make us less important, but, as I elaborate in my book A Tear at the Edge of Creation, if we are rare, and so is our planet, we should rise up and do all we can to preserve and celebrate what we have. We should stop looking for advanced alien creatures to save us from our mess (or to destroy us for what we've got) and take care of our own legacy to the planet and to the next generations. -
by Marcelo Gleiser
-
NPR
Spirit Rescue International™
Providing no-cost professional spiritual help, personal support and guidance
Take the first step towards genuine peace of mind
The Spirit Rescue International™ Haunted Help Forum
*Join Our Group On Facebook*
Join Eric Altman, Lon Strickler and Sean Forker LIVE each Sunday at 10 PM ET as we go
Beyond the Edge!
ANOMALIST BOOKS
Works on maverick science, unexplained mysteries, unorthodox theories, strange talents, and unexpected discoveries. Please check out their excellent and diverse catalog
The 'C' Influence
Actualizing Esoteric Discussion
Become a fan of 'Phantoms and Monsters' at Facebook
"The latest news from beyond the mainstream"
Join Ben & Aaron for their weekly podcast!
Check out Mysterious Universe Plus+ all access format!
Astral Perceptions - Discussing ultraterrestrial and multidimensional phenomena and the proficiency of remote viewing

Click here to check out Stan's most recent book!
Join the
The Social - Paranormal Network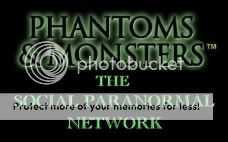 A NETWORK OF INVESTIGATORS, ENTHUSIASTS AND THOSE SEEKING THE TRUTH
THROUGH PARANORMAL EDUCATION AND DISCUSSION
(410) 241-5974

Phantoms and Monsters
Now Available on Kindle
Labels: alternative news, bizarre, breaking news, fortean, oddball
Have you had a close encounter or witnessed something unusual?
Send us an email
Receive notice of each 'Phantoms and Monsters' post in real time!
Go to Phantoms and Monsters - NetworkBlogs and sign up
It's free!
Click here for this week's entertaining podcast
Add 'Beyond The Edge' Radio to your playlist!