A photo of the supposed creature in 2009
Over 30 tourists from Heilongjiang witnessed the whole process of a lake monster's appearance in Kanas Lake with the duration of eight minutes at 18:56 on Tuesday.
The tourists saw the lake monster in the lake at the foot of a mountain more than 2,000 meters away. The lake monster, four or five meters long, appeared in the lake with the huge wave, revealing its white belly.
"It has reached the lake bank. The wave there is so huge. Look! It is moving over there. The white (belly) is so long! "
The scene lasted about eight minutes, then the monster swam to the opposite bank, whipping up huge wave and disappearing beyond tourists' view.
It is the first time that lake monster appears in Kanas Lake this year.
Kanas Lake, located in the valley of the Altai, northwest China's Xinjiang, is a famous natural resort. The lake is 1,374 meters above sea level and covers an area of 45.73 square kilometers with the deepest point of 196 meters. The famous legend about "Kanas Monster" adds another air of mystery to the lake. According to the legend, huge monsters dwell in the lake's depths and often dragged horses and camels drinking into the water before swallowing them.
Over 30 tourists from Heilongjiang witnessed the whole process of a lake monster's appearance in Kanas Lake with the duration of eight minutes at 18:56 on Tuesday.
Tourists Witness "Lake Monster" In Kanas Lake, Xinjiang
-----
From 7/21/2009
New 'Water Monster' Sighting at Kanas Lake, China
Ten tourists from Guangdong and Hubei provinces were the latest to report a "water monster" sighting in Kanas Lake, Xinjiang Uygur Autonomous Region. They told local media that they saw a giant black creature on July 5 that stirred waves over 1 meter high and left a wake over 10 meters long for 20 seconds about 100 meters away from their boat.
Kanas Lake, which means "beautiful, mysterious lake" in Mongolian, is China's deepest freshwater lake with a maximum depth of 188.5 meters, and 24 kilometers long from north to south. It's located in the Kanas Nature Reserve in the Aletai mountain area of northern Xinjiang and has been the source of numerous monster sightings, similar to Scotland's Loch Ness (or "Nessie") monster for decades – particularly since the 1980s when more visitors and settlers came to the area. Scientists have carried out investigations, though no conclusive evidence has been found of the creature.
Some scientists believe, however, that the monsters may be taimen trout, one of the world's largest and most ferocious freshwater fish which can grow as long as 10 meters.
____________________
PREVIOUS SIGHTING
Legendary Chinese Lake 'Monster' is Captured on Camera
July 24, 2007
China's Loch Ness monster has been sighted. Or so Chinese state-run television says. Not just one, but more than a dozen huge creatures can be seen churning across Lake Kanas in remote western China, leaving a foamy wake more like an enormous motorboat than a big fish.
A rare video filmed by a tourist at the lake in the Heavenly Mountains of the wild Xinjiang region, has reignited debate over the existence of an underwater creature that can compete with the Loch Ness monster in both mass and mystery.
The grainy film shows about 15 objects moving at high speed just beneath the surface of the lake and whipping the smooth blue water into a bubbling white frenzy. Chinese Central Television broadcast the video on its news channel, describing the footage shot by a passing tourist on July 5 as the clearest ever seen of a legendary beast that has been rumoured for centuries to live in the depths of Lake Kanas.
Local myth among the Chinese Mongolians living in the scenic mountains near the Russian and Mongolian borders has it that the animals have been known to drag sheep, cows and even horses from the shore and into the deep to devour them.
Yuan Guoying, of the Xinjiang Institute of Environmental Protection, told The Times that the video provided important proof in his more than two decades of research at the lake. "Only fish could make waves in this formation. I think the video is real."
The television commentator described the sighting as the first since June 7, 2005 when two black creatures measuring more than 10 metres in length appeared on the surface swimming at speed from the shore to the centre of the lake. The newsreader described the latest appearance: "They sometimes gathered in a flock, sometimes spread about or moved shoulder to shoulder. The scene is grand and they looked like a fleet."
State television made no attempt to identify the animals, saying only: 'This time a large number of unidentified creatures emerged, bringing more mystery to Lake Kanas."
Professor Yuan has been on their trail since 1980 and has been gripped by the mystery since his first sighting in 1985 when he says he saw as many as 50 of what he called fish. "They looked like reddish-brown tadpoles because I could only see their heads on the surface. They opened their mouths to breathe and their length was about 10 to 15 metres."
He spotted the animals again on May 28, 2004 when he was standing looking down at the lake from a nearby hill. "I thought there was a huge piece of black plastic in the lake and that someone had been polluting it. But then I released that it must be the back of a giant fish. I was shocked because they were just too big. Looking at them was like looking at submarines."
When Mr Yuan got back to his office he tried to calculate the size of the animals by setting their proportions against those of the surrounding landmarks such as trees or the shape of the shoreline. "I didn't dare say they were bigger than 20 metres because no one would believe me."
Chinese researchers in the 1980s said the 'monster' was likely to be a huge member of the salmon family – one of eight species of fish living in the lake. Mr Yuan gave their name as Hucho Taimen, a freshwater salmon tht thrives in deep frigid waters. He says the biggest Hucho Taimen salmon ever captured was 2.1 metres long and was found in Russia.
The animals that roam Lake Kanas live in an area about 24 kilometres by two kilometers and with an average depth of 122 metres and as deep as 188 metres at one point.
Mr Yuan believes that a lot more research is needed although China lacks the scientific equipment to make further studies. And it would be impossible to catch a fish of this size. "This fish will have tremendous strength."
Other Chinese scientists have cast doubt on his findings, but Mr Yuan is adamant. "People will just say 'You've got to be kidding'. But I saw them with my own eyes. I am a scientist. I have no choice but to believe what I saw."
Spirit Rescue International™
Providing no-cost professional spiritual help, personal support and guidance
Take the first step towards genuine peace of mind
The Spirit Rescue International™ Haunted Help Forum
*Join Our Group On Facebook*
ANOMALIST BOOKS
Works on maverick science, unexplained mysteries, unorthodox theories, strange talents, and unexpected discoveries. Please check out their excellent and diverse catalog
The 'C' Influence
Actualizing Esoteric Discussion
Become a fan of 'Phantoms and Monsters' at Facebook
"The latest news from beyond the mainstream"
Join Ben & Aaron for their weekly podcast!
Check out Mysterious Universe Plus+ all access format!
Astral Perceptions - Discussing ultraterrestrial and multidimensional phenomena and the proficiency of remote viewing
Join Eric Altman, Lon Strickler and the crew LIVE each Sunday at 10 PM ET as we go
Beyond the Edge!

Click here to check out Stan's most recent book!
Click here to check out John Ventre's most recent book!
Join the
The Social - Paranormal Network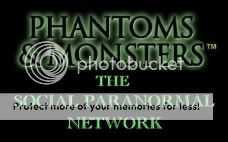 A NETWORK OF INVESTIGATORS, ENTHUSIASTS AND THOSE SEEKING THE TRUTH
THROUGH PARANORMAL EDUCATION AND DISCUSSION
(410) 241-5974

Phantoms and Monsters
Now Available on Kindle
Labels: China, cryptid, cryptozoology, Kanas Lake, lake monster, monsters, zoology
Have you had a close encounter or witnessed something unusual?
Send us an email
Receive notice of each 'Phantoms and Monsters' post in real time!
Go to Phantoms and Monsters - NetworkBlogs and sign up
It's free!
Click here for this week's entertaining podcast
Add 'Beyond The Edge' Radio to your playlist!