"Bat Creature" by SW
news24
- Steytlerville, a small Karoo town, is being plagued by rumours of a shape-shifting monster, Eastern Cape police said on Thursday.
"The community says that the monster changes shape while you are looking at it," Warrant Officer Zandisile Nelani said.
He said one man had reported it changed from a man wearing a suit into a pig and then into a bat. The creature had been sighted on a number of occasions near a church and only appeared at night, Nelani said.
Local residents met with police last week to discuss the strange phenomenon.
Nelani said he had asked people to take a photograph of the alleged monster. Although some locals were frightened of it, it had not harmed any people or livestock.
-----
COULD IT BE A KONGAMATO OR OLITAU?
Could this supernatural creature be a shapeshifting Kongamato or related being...possibly an Olitau? Africans don't see the Kongamato as a supernatural being, like a mulombe, demon. They regard it as a horrible beast, worse than a rogue lion. The Zambian Kaonde tribe used to carry charms, muchi wa Kongamato, for protection from the beast. Some believe that seeing Kongamato is a death omen. Kenyan Steve Romandi-Menya, said Kongamato, which they call Batamzinga, is said to eat decomposing human flesh and dig up corpses if they're not buried deep enough. The Kitui Wakamba natives believe it flies to the ground from Mount Kenya nightly.
To the west in Cameroon, the natives describe a nocturnal, bat-like creature called Olitau. Likely the same as the Kongamato, this creature was observed by an exploration team under Ivan Sanderson in 1932.
During the expedition, Ivan Sanderson had an encounter with a Kongamato-like creature called Olitau by the natives in the Cameroon. He shot a fruit eating bat that fell into the water. As he was trying to retrieve it he fell and when he regained his footing, party member George, yelled at him to look out. Sanderson saw a black eagle-sized creature with bat-like wings and pointed teeth flying at him, so he submerged. When he emerged it was gone. It reappeared and flew at George before it soared away. When they returned to camp, they told the natives about the encounter. The Africans asked the explorers where they encountered Olitau. Sanderson pointed toward the river. The terrified natives ran off in the opposite direction with their guns, leaving valuables behind.
Modern reports of the Kongomato continue to surface. In 1998 Steve Romandi-Menya, a Kenyan exchange student living in Louisiana, declared that the Kongomato is still known to the bush-dwelling people in his country. The creatures are said to feed on decomposing human flesh, digging up bodies if they are not buried to sufficient depth.
In 1942 Captain Charles R.S. Pitman wrote a nearly 300 page volume describe the fauna of Uganda and the surrounding regions in great detail. He records the natives superstitious fear of looking upon the wailing tree hyrax at night lest they die (even though they were not afraid to capture the animal in daylight). He then discusses another animal that the natives described.
"When in Northern Rhodesia I heard of a mythical beast, alleged to have a similar death-dealing attribute, which intrigued me considerably. It was said to haunt formerly, and perhaps still to haunt, a dense, swampy forest region in the neighbourhood of the Angola and Congo borders. To look upon it too is death. But the most amazing feature of this mystery beast is its suggested identity with a creature bat- and bird-like in form on a gigantic scale strangely reminiscent of the prehistoric pterodactyl. From where does the primitive African derive such a fanciful idea?"
(Pitman, C.R.S, A Game Warden Takes Stock, 1942, pp. 202-203.) -
www.genesispark.org
Spirit Rescue International™
Providing no-cost professional spiritual help, personal support and guidance
Take the first step towards genuine peace of mind
The Spirit Rescue International™ Haunted Help Forum
*Join Our Group On Facebook*
ANOMALIST BOOKS
Works on maverick science, unexplained mysteries, unorthodox theories, strange talents, and unexpected discoveries. Please check out their excellent and diverse catalog
The 'C' Influence
Actualizing Esoteric Discussion
Become a fan of 'Phantoms and Monsters' at Facebook
"The latest news from beyond the mainstream"
Join Ben & Aaron for their weekly podcast!
Check out Mysterious Universe Plus+ all access format!
Astral Perceptions - Discussing ultraterrestrial and multidimensional phenomena and the proficiency of remote viewing
Join Eric Altman, Lon Strickler and the crew LIVE each Sunday at 10 PM ET as we go
Beyond the Edge!

Click here to check out Stan's most recent book!
Click here to check out John Ventre's most recent book!
Join the
The Social - Paranormal Network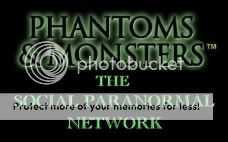 A NETWORK OF INVESTIGATORS, ENTHUSIASTS AND THOSE SEEKING THE TRUTH
THROUGH PARANORMAL EDUCATION AND DISCUSSION

Use coupon code PM with any order and receive an additional 10% off!
Phantoms and Monsters
Now Available on Kindle
Labels: cryptid, cryptozoology, flying humanoids, South Africa, unexplained phenomena
Have you had a close encounter or witnessed something unusual?
Send us an email
Receive notice of each 'Phantoms and Monsters' post in real time!
Go to Phantoms and Monsters - NetworkBlogs and sign up
It's free!
Click here for this week's entertaining podcast
Add 'Beyond The Edge' Radio to your playlist!