discovery
- The SETI Institute is suspending its search for extraterrestrial radio beacons using its most advanced alien signal-seeking tool while it hunts for new sources of funding.
The privately financed group, based in Mountain View, Calif., has been using an array of radio telescopes at Hat Creek Observatory, about 300 miles north of San Francisco, since October 2007, to study stars for non-naturally occurring radio signals that could indicate the presence of a technologically advanced civilization beyond Earth.
Microsoft co-founder Paul Allen provided an initial $25 million for the project, which is known as the Allen Telescope Array. The network eventually is intended to have 350 telescopes. The University of California at Berkeley, the National Science Foundation and several corporate and individual donors provided operating funds.
Budget cutbacks by the state of California and the NSF, however, have hit the project hard. Not only was the expansion postponed, now the search for ET itself is on hold.
In a blog post on Friday, astronomer Franck Marchis, who is not involved in SETI research but who works at institutes that are, disclosed that operations of the Allen Telescope Array have been suspended.
In addition to SETI work, the observatory shutdown impacts mainstream radio astronomy projects, such as a survey of extragalactic radio sources.
There is a light at the end of the tunnel, however. Since 2009, writes Marchis, the Air Force has been looking at using the Allen Telescope Array to keep track of orbital debris whizzing around the planet.
Writes Marchis:
The future of the ATA may depend of the US Air Force program. Unfortunately, because of the recent federal finance turmoil, no clear decision has been taken with enough time to keep the observatory running. Since April 15, the observatory is in hibernation. All the equipments have been taken care of to make sure that they do not deteriorate over time.
-----
SETI Institute suspends search for alien signals
sfgate
- State and federal budget cuts have forced astronomers operating the 42 telescopes at UC Berkeley's famed Hat Creek Radio Astronomy Laboratory to suspend their search for signals from extraterrestrial civilizations.
SETI Institute astronomer Jill Tarter said Tuesday the entire laboratory in the remote Lassen National Forest near Redding is being "placed in hibernation" because $2.5 million in funds from the National Science Foundation and from UC's astronomy budget have dried up.
Other money expected from the Air Force for tracking orbital debris and satellites in space is awaiting congressional budget action, said Jack Welch, an astronomy professor at the UC Berkeley graduate school and a former director of the radio astronomy laboratory.
The suspension is a blow to the SETI Institute, whose astronomers have been seeking signs of life in distant space for more than 30 years. In recent years, the telescopes have cost about $1.5 million a year to operate, and another $1 million has gone to the SETI search, Tarter said.
The half-dozen UC scientists who use the Hat Creek telescopes remotely from their on-campus office computers can move their research efforts to radio telescope sites elsewhere, "but only with difficulty," said Leo Blitz, the lab's current director.
Leaders of NASA's Kepler spacecraft have detected 1,235 distant stars that might hold earthlike planets in "habitable zones," and the craft is now scanning 146,000 "candidate stars" that might also hold such planets.
Tarter said SETI astronomers who have joined the hunt with the telescopes at Hat Creek will have to cancel their work on the Kepler project.
"The Kepler mission for the first time has made people really understand that planets far away really might be very much like Earth and hold life - perhaps even civilizations - and that's what the SETI search is all about," Tarter said.
The telescopes and all the other equipment at the Hat Creek laboratory are being held in a "safe mode," ready to be started up again if money ever becomes available, said Tom Pierson, executive director of the SETI Institute.
"We're hoping to raise at least $5 million to return to full operations and assure the future of the telescopes," Tarter said.
The Allen Telescope Array was initially financed with an $11 million grant from Microsoft co-founder Paul Allen. It is planned to include a total of 350 6-meter telescopes, all arrayed in a pattern and operated simultaneously to scan across distant space.
Then advanced computers at the lab would analyze apparently random radio noise that might just turn out to be alien signals from unknown beings on distant planets that have yet to be found.
Spirit Rescue International™
Providing no-cost professional spiritual help, personal support and guidance
Take the first step towards genuine peace of mind
The Spirit Rescue International™ Haunted Help Forum
*Join Our Group On Facebook*
ANOMALIST BOOKS
Works on maverick science, unexplained mysteries, unorthodox theories, strange talents, and unexpected discoveries. Please check out their excellent and diverse catalog
The 'C' Influence
Actualizing Esoteric Discussion
Become a fan of 'Phantoms and Monsters' at Facebook
"The latest news from beyond the mainstream"
Join Ben & Aaron for their weekly podcast!
Check out Mysterious Universe Plus+ all access format!
Astral Perceptions - Discussing ultraterrestrial and multidimensional phenomena and the proficiency of remote viewing
Join Eric Altman, Lon Strickler and the crew LIVE each Sunday at 10 PM ET as we go
Beyond the Edge!

Click here to check out Stan's most recent book!
Click here to check out John Ventre's most recent book!
Join the
The Social - Paranormal Network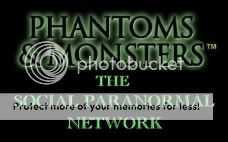 A NETWORK OF INVESTIGATORS, ENTHUSIASTS AND THOSE SEEKING THE TRUTH
THROUGH PARANORMAL EDUCATION AND DISCUSSION

Use coupon code PM with any order and receive an additional 10% off!
Phantoms and Monsters
Now Available on Kindle
Labels: astronomy, extraterrestrials, SETI
Have you had a close encounter or witnessed something unusual?
Send us an email
Receive notice of each 'Phantoms and Monsters' post in real time!
Go to Phantoms and Monsters - NetworkBlogs and sign up
It's free!
Click here for this week's entertaining podcast
Add 'Beyond The Edge' Radio to your playlist!