WTAE
- A Fayette County man needed nearly 300 stitches to close a gash in his arm after he was attacked by an unknown animal Tuesday night.
Wanda Knopsnider told WTAE Channel 4 Action News' Sheldon Ingram that noises were heard behind her camper in North Union Township, so her daughter's boyfriend, Adam Cravener, went to investigate.
Cravener, 25, said he grabbed a baseball bat and went outside. When he found the animal, he said it bit him.
"It came out from right behind the camper," Cravener told Ingram. "It just happened so quick," he said.
Cravener said it was too dark for him to get a good look at the animal. It was initially thought to be a bear attack but Cravener told Ingram he thought it would be difficult for a bear to fit in the space behind the camper.
"He didn't say what it was. He just said, 'It got me! It got me!'" Knopsnider said.
Cravener need 294 stitches to close a 6-inch gash in his left forearm, Ingram reported.
He spent the night at an area hospital but has since been released.
Scott Tomlinson, the Game Commission's southwestern region supervisor, said their investigation shows nothing to substantiate that there was a bear in the area. They searched the area and talked to witnesses, none of whom saw a bear.
-----
Game commissioner doubts Fayette man was attacked by bear
post-gazette
- A Pennsylvania Game Commission supervisor says there's "no credence" to a report that a Fayette County man was bitten or otherwise attacked by a bear.
Adam Knopsnider's family said he was bitten by the animal when he went outside to investigate a suspicious noise about 9:30 p.m. Tuesday.
But Scott Tomlinson, the game commission's southwestern region enforcement supervisor, says there were no bear tracks or other evidence the attack occurred as reported in North Union. There was evidence the man may have been bitten by a dog during a domestic dispute.
Mr. Tomlinson said, "There's no credence to the fact that there was a bear" even in the area about 35 miles south of Pittsburgh.
Mr. Knopsnider's family says he was cleaning out a camper when they heard a noise. Mr. Knopsnider grabbed a baseball bat and went outside to investigate, and that's when his family says he was attacked.
The victim's mother, Wanda Knopsnider, said her 25-year-old son was screaming, "It got me, it got me!" and was bleeding badly before he was flown to Ruby Memorial Hospital in Morgantown, W.Va., for treatment.
The hospital says they have no record of a patient by that name being admitted, though it's possible he was treated and released from the emergency room.
NOTE: I had not heard about this incident (which occurred 3 weeks ago) until I noticed Sharon Lee had posted at The Bigfoot Field Reporter. This one is a bit strange...300 stitches is a mighty big swipe of a paw. The only animal that could have remotely done that (IMO) was a big cat. As far as a black bear, if there were cubs around or a food source, it may be possible...but I'm really doubting this story from the get-go. Lon
Spirit Rescue International™
Providing no-cost professional spiritual help, personal support and guidance
Take the first step towards genuine peace of mind
The Spirit Rescue International™ Haunted Help Forum
*Join Our Group On Facebook*
ANOMALIST BOOKS
Works on maverick science, unexplained mysteries, unorthodox theories, strange talents, and unexpected discoveries. Please check out their excellent and diverse catalog
The 'C' Influence
Actualizing Esoteric Discussion
Become a fan of 'Phantoms and Monsters' at Facebook
"The latest news from beyond the mainstream"
Join Ben & Aaron for their weekly podcast!
Check out Mysterious Universe Plus+ all access format!
Astral Perceptions - Discussing ultraterrestrial and multidimensional phenomena and the proficiency of remote viewing
Join Eric Altman, Lon Strickler and the crew LIVE each Sunday at 10 PM ET as we go
Beyond the Edge!

Click here to check out Stan's most recent book!
Click here to check out John Ventre's most recent book!
Join the
The Social - Paranormal Network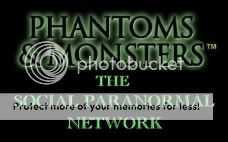 A NETWORK OF INVESTIGATORS, ENTHUSIASTS AND THOSE SEEKING THE TRUTH
THROUGH PARANORMAL EDUCATION AND DISCUSSION

Use coupon code PM with any order and receive an additional 10% off!
Phantoms and Monsters
Now Available on Kindle
Labels: animal attack, cryptozoology, Fayette County, Pennsylvania, zoology
Have you had a close encounter or witnessed something unusual?
Send us an email
Receive notice of each 'Phantoms and Monsters' post in real time!
Go to Phantoms and Monsters - NetworkBlogs and sign up
It's free!
Click here for this week's entertaining podcast
Add 'Beyond The Edge' Radio to your playlist!